Electric Vehicles will be in our future that we know for sure, but these five partners have teamed up to bring the future to us now. The City of Grenoble, the state of France, its metropolitan area Grenoble-Alpes-Metropole, the energy company EDF and its affiliate Sodetrel, Toyota Motor Corporation and Cite Lib have joined forces to bring an innovative experimental service (a compact Electric Vehicle (EV) sharing verification project) to the residents of Grenoble for three years from October 1st 2014. Toyota's plans for the future includes the i-Road and the Ha:mo sharing service in Grenoble.
Cité lib by Ha:mo is an electric ride-sharing program that provides users with a new and innovative car sharing service that includes "Relay Rides". The Cité lib by Ha:mo car-sharing service allows the user to combine cars and public transportation to suit their needs.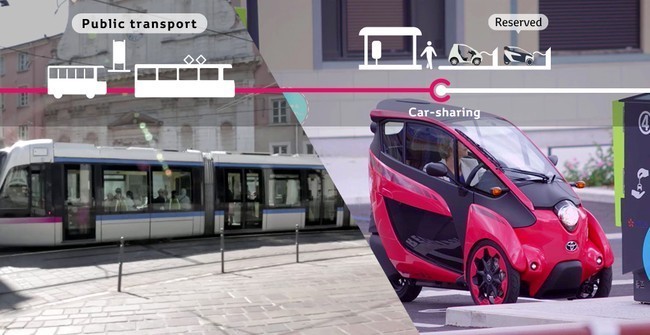 Toyota's one-mile mobility management system will provide a system that's integrated with the city's public transportation. The company plans to do this by providing the public with small EVs.
The One-Mile Mobility Management System is a unique centralized IT management system that will enable users to check location and availability of car-sharing vehicles and book them through smartphone's application "Cité Lib by Ha:mo". The system will also optimize vehicle allocation throughout the charging station network.
The i-Road is Toyota's ultra-compact fun-to-drive three-wheel vehicle developed under the theme of compact and refreshing mobility. The i-Road is equipped with Active Lean technology that emulates the movements of a skier. Currently in Grenoble, 35 units of each COMS and i-ROAD, which totals to 70 units, will be used and supported with modal shift (means of transport conversion). The charging stations for these Electric Vehicles will be provided by the French electricity company EDF and its affiliate Sodetrel. All these component put together, helps to bring the "Cité lib by Ha:mo" electric vehicle car-sharing service to life.
Many residences and businesses lay beyond an easy walking distance to a station, this hinders commuters from utilizing the city's rapid transit network. The project tends to address the "Last Mile" problem by integrating existing public transportation and car-sharing systems. The service aims to complement Grenoble's public transport network with a solution for short-trips—including one-way trips—that can be planned as part of overall city journeys. There's no need for long distance commutes to use the service as its vehicles and the charging stations are seamlessly connected to Grenoble's transport network, thereby offering both route planning and online/mobile app reservations. Making use of the service is as simple as using the dedicated app with the same name, Cité lib by Ha:mo to reserve and pay to rent and i-Road, pick the EV up to get to your destination. You can drop off Electric Vehicle at any station near you destination without having to return it to the original pickup point. You'll only be charged for the ride, so you don't have to worry about any charging fee or parking space when you drop of the COMS or i-ROAD.
Toyota's role in this partnership is prominent, the company is also responsible for the car-sharing management system—called Ha:mo (for Harmonious Mobility)—which has been pilot testing in its home town of Toyota City in Japan. I see this as a game changer, as the current state of ride sharing from other companies are complex and aren't cost effective. Cité lib by Ha:mo is open to the public now for the next three years if you happen to be in Grenoble.
This post has been sponsored by Toyota, but concerns our own opinion.