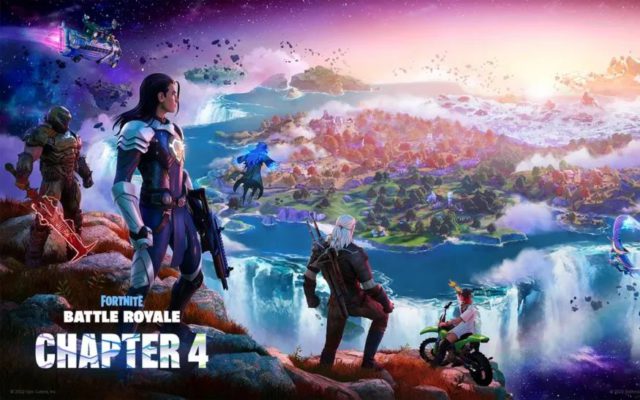 Fortnite Battle Royale Chapter 4 is here, Epic's newest comes with a new island for players to fight over and survive the gas. The map comes with a couple of landmarks including a castle known as The Citadel, Anvil Square and a farm name Frenzy Fields.
This new chapter introduces new gameplay tweaks, dirt bikes called Trail Thrashers that allow you to perform tricks and fire your weapons while you move. Sprinting towards an obstacle will now let you vault over it. Players can now use their pickaxe to create a snowball in areas of the map that have snow. The snowball can be used to take down your enemies by rolling over them.
Another feature that comes with this chapter is called Reality Augments. This feature allows you to choose two random buffs for your character at certain intervals in the game. Light Fingers Reality Augments allows you to reload weapons that use light ammo faster. Players can try out the new Shockwave Hammer weapon that lets you launch yourself at other players.
Epic noted in a blogpost that the "Fortnite Battle Royale now makes use of Unreal Engine 5's newest, most innovative features, via Unreal Engine 5.1." The Next-gen Unreal Engine 5 features such as Nanite, Lumen, Virtual Shadow Maps, and Temporal Super Resolution are now available in Fortnite Battle Royale on PlayStation 5, Xbox Series X|S, PC, and cloud gaming. With the new chapter comes a fresh new battle pass for players to purchase and complete.