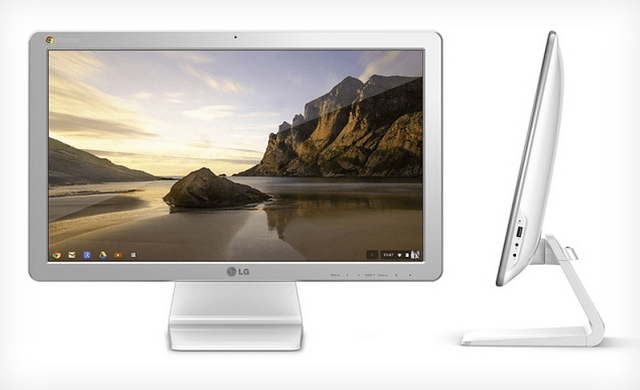 I remember back in the late 90's and early 2000's when manufacturers tried to push internet appliances to the masses that were clearly not ready for prime time.  They were slow, extremely limited, and expensive.  Compared to the computers of even those times, they just were not very compelling items to buy and so most of them vanished into obscurity.


Enter Google's "Chrome OS" which is meant to someday be a full on operating system (according to Google) but for now is primed to be a low cost and entry level OS for basic internet needs. It has the same idea as those older internet appliances but just works a whole lot better.  The OS is basically a Chrome browser that is disguised as a desktop OS with your data and apps stored in the cloud.  This makes Chrome OS a light weight, snappy operating system that can be installed on a variety of low cost devices.  Google already has laptops and netbooks based on Chrome OS on the market and as of today their partner LG has announced the Chromebase, an all in one PC reminiscent of the older imac models.
Specifications and Features
–   Processor: Intel® Celeron® CPU
–   Operating System: Chrome OS
–   Display: 21.5-inch Full HD (1920 x 1080) IPS
–   Memory: 2 GB
–   Storage: 16GB iSSD
–   Ports: HDMI-in, USB 2.0 x 3, USB 3.0 x 1, LAN
–   Accessories: Keyboard, Mouse, Cable Organizer
–   Webcam: 1.3 MP 720 HD
As with most Chrome OS based devices, this will not be a powerhouse PC to run your marathon gaming sessions on unless you count Angry Birds as a heavy duty game.  Based on these specs you will get a nice IPS screen with full 1080p HD resolution for the screen size along with some USB 3.0 goodness and a 1.3mp camera for Hangouts sessions.  With an 4th gen Intel CPU and 2gb of ram you should not have any issue with most basic tasks like surfing the web, watching videos, and editing documents.  Price has yet to be determined but this computer also has an HDMI port in, meaning that you should be able to connect your regular PC or Mac Mini if you want other and more powerful options.
This product will be displayed at LG's booth at CES 2014 in the Las Vegas Convention Center  from Tuesday, January 7 through Friday, January 10th.
Sources: Yahoo, The Verge