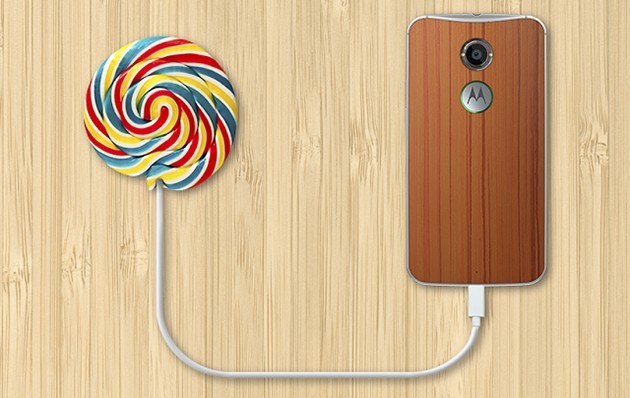 The race to bring Android 5.0 Lollipop to smartphones is on, and Motorola just beat other companies to it. Motorola just announced that they've started rolling out Android's latest update to select Motorola devices, just a week after its US public release. The update is rolling out to the second-gen Moto X Pure Edition and Moto G (US GSM and Global GSM retail versions sold in the US) devices "in phases." The new Android 5.0 update brings with it the flatter look and feel of Material Design and a bevy of new features listed below.
A new look and feel. Google brings its all-new Material Design to life with a bold, new visual style. The new user interface is designed to enable better, more natural touch screen interactions and introduces vivid new colors, typography, and edge-to-edge imagery to make using your phone more fluid.
Your device, your rules. Catch up with notifications on your lock screen and even dismiss them without unlocking. New "Downtime" and "Interruption" settings also allow you to decide what people and what notifications get through at times that you choose.
Share your device. You know that moment when your kid plays with your phone or a friend needs to borrow it? Use "Guest" mode or another account you've set up to share your device. You can also pin a view to limit the user to a particular application. 
Let there be light. Shine a light by using the new flashlight in Quick Settings. Just swipe down with two fingers from the status bar to see it. 
Battery saver. The Battery settings panel now shows an estimated projection for how much time you have left even while you're charging. You can also enable a new battery saver mode that will save power by reducing performance and most background data operations to extend your battery life. 
Motorola also made mention of working with carrier partners to bring the new update to more devices, I guess we just have to wait a little while for that. If you own the select Motorola device, prep your phone and be on the lookout for the Android 5.0 Lollipop OT update.
SOURCE: Motorola