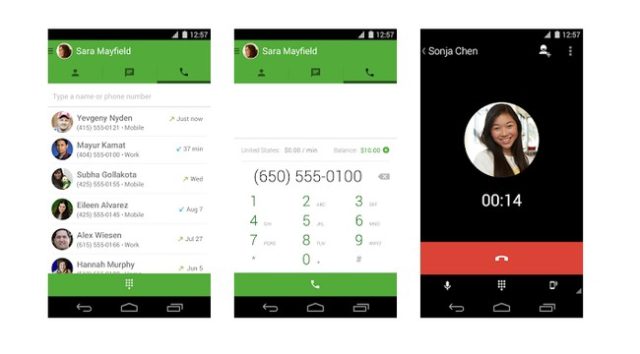 Google just merged Google Voice and Hangouts with the launch of its updated and redesigned Hangout app for Android and iOS. The integration allows Voice users to set up Hangouts to receive Google Voice text messages and voicemail on mobile or the desktop. The feature makes the Google Voice app extinct, putting all your conversations in one app. Users will be getting the new version of Hangouts v2.3 also in the next few days, don't forget to grab the sister app "Hangouts Dialer," to turn on voice calls. As stated on the Official Google blog,
"Starting today you can make voice calls from Hangouts on Android, iOS and the web. It's free to call other Hangouts users, it's free to call numbers in the U.S. and Canada, and the international rates are really low"
As promised by Google, the rates are really low as compared to their competitors, I just made some International calls to Africa for 5¢ per minute 'sounds good ehh,' you can check the rates page here. The new Google Hangouts/ Dialer for Android comes with Google's flat Material Design, if you haven't seen the new Hangout update, just grab the Hangouts Dialer app, run it and it will give you the option to update to the new Hangouts.
Hangouts Dialer Description

Now call any phone number in the world from your Hangouts app using your data connection. Download and install the Hangouts Dialer to activate phone calling functionality in the Hangouts app. After installation, you can access all phone calling features directly from Hangouts or use Hangouts Dialer for a shortcut to the dialer screen in Hangouts.● Make phone calls from the Hangouts app (and all calls to other Hangouts users are free!).
● Connect with your Google Voice number to make VOIP calls in the Hangouts app from your Google Voice number.