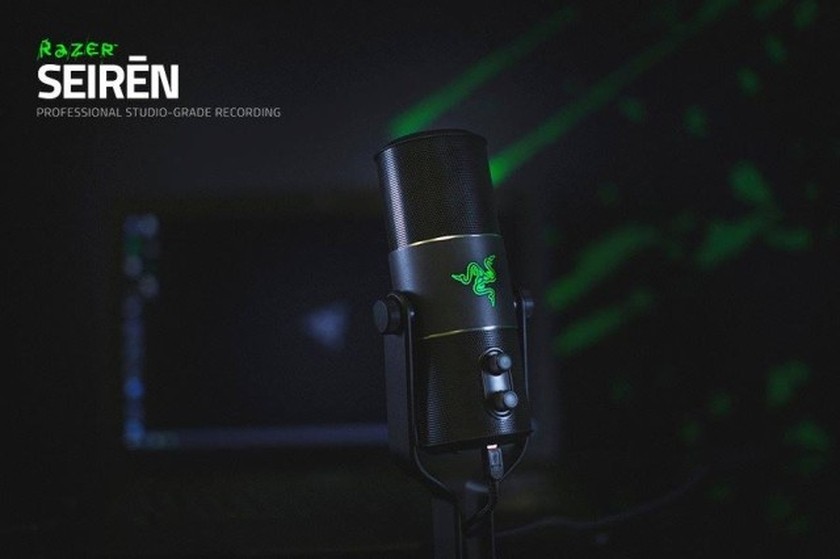 Razer is well-known by PC gamers around the world, for creating PC gaming peripherals. The company has just announced the release of their Razer Seiren microphone.
The Seiren features an anodized aluminum base body and will feature an LED-lit Razer logo. It features three 14mm condenser capsules and will respond to frequencies ranging from 20Hz to 20kHz, making it perfect for recording and live streaming. It is also able to record at outstanding clarity levels multiple times of that found on CDs.
The Razer Seirēn is the perfect tool to reach out to your subscribers whether you are new to streaming or a veteran in the field. Treat your listeners to an amazing audio experience as they enjoy the warmer, richer, and clearer sound of your recordings The microphone will also feature a built-in headphone amplifier for those who might need to attach a pair of headphones for monitoring. With zero latency output when plugged directly into the Razer Seiren, the headphone allows correct monitoring of your recordings in real-time. Ensure that you sound exactly as you want your listeners to hear you. By using the control knobs on the microphone's body, you can quickly adjust the mic gain and headphone volume for an ideal recording and listening experience. Overall the Seiren by Razer is simple to use for the game streamer or professional YouTuber at home.
There will also be a pop filter sold separately that helps to prevent hisses and pops made while speaking. The Razer Seiren is currently priced at $179.99 for the microphone only, or $229.99 that includes the shock mount and pop filter.
FEATURES
• HD recording with outstanding clarity
• 4 adjustable recording patterns (Cardioid, stereo, omnidirectional, bidirectional)
• Quick controls for pattern switching, headphone volume and mic gain
• Built-in headphone amplifier with zero latency output
• Plug and play recording via single USB connection
TECH SPECS
Microphone specifications
• Power required / consumption: 5V 500mA (USB)
• Sample rate: 192kHz
• Bit rate: 24bit
• Capsules: Three 14mm condenser capsules
• Polar patterns: Cardioid, stereo, omnidirectional, bidirectional
• Frequency response: 20Hz – 20kHz
• Sensitivity: 4.5mV/Pa (1kHz)
• Max SPL: 120dB (THD: 0.5% 1kHz)
Headphone amplifier
• Impedance: > 16ohms
• Power output (RMS): 130mW
• THD: 0.009%
• Frequency response: 15Hz – 22kHz
• Signal-to-noise ratio: 114dB