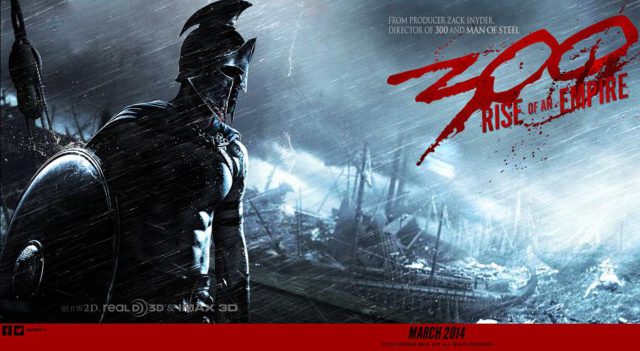 The first trailer for 300: Rise of an Empire just appeared on 300's official Facebook page, I bet fans of the movie are really going crazy about it. There's no need to tell you about it, you just have to watch the trailer, to behold the awesomeness that's going to be in the movie. It's a definite must watch for us, the release date for the movie in U.S. theaters is March 2014, you can check the official page for your country release date, find the synopsis for the movie after the video.
Synopsis
Based on Frank Miller's latest graphic novel Xerxes, and told in the breathtaking visual style of the blockbuster "300," this new chapter of the epic saga takes the action to a fresh battlefield—on the sea—as Greek general Themistokles attempts to unite all of Greece by leading the charge that will change the course of the war.

"300: Rise of an Empire" pits Themistokles against the massive invading Persian forces led by mortal-turned-god Xerxes, and Artemisia, vengeful commander of the Persian navy.

Warner Bros. Pictures and Legendary Pictures present, a Cruel and Unusual Films/Mark Canton/Gianni Nunnari Production, "300: Rise of an Empire." The action adventure stars Sullivan Stapleton ("Gangster Squad") as Themistokles and Eva Green ("Dark Shadows," "Casino Royale") as Artemisia. Lena Headey reprises her starring role from "300" as the Spartan Queen, Gorgo; Hans Matheson ("Clash of the Titans") stars as Aeskylos; David Wenham

returns as Dilios, and Rodrigo Santoro stars again as the Persian King, Xerxes.

The film is directed by Noam Murro, from a screenplay by Zack Snyder & Kurt Johnstad, based on the graphic novel Xerxes, by Frank Miller. It is produced by Gianni Nunnari, Mark Canton, Zack Snyder, Deborah Snyder and Bernie Goldmann. Thomas Tull, Frank Miller, Stephen Jones and Jon Jashni serve as executive producers.

The creative filmmaking team includes director of photography Simon Duggan, production designer Patrick Tatopoulos, editor Wyatt Smith and costume designer Alexandra Byrne. The music is composed by Junkie XL.

"300: Rise of an Empire" will be distributed by Warner Bros. Pictures, a Warner Bros. Entertainment Company. This film is not yet rated.
Source: 300Themovie