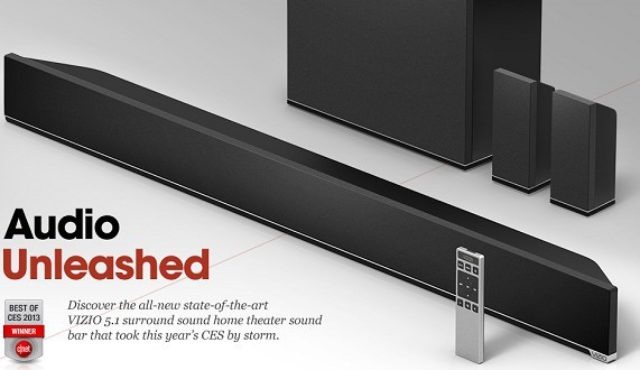 The CES award-wining home soundbars from VIZIO are ready to be part of your living room decor and entertainment system, this was confirmed in the company's recent press release. The 42" 5.1 Home Theater Sound Bar with Wireless Subwoofer and Satellite speakers, was immediately made available to consumers, and can be found at Amazon.com, Costco, Costco.com, BestBuy.com, Walmart.com, VIZIO.com and in-store at Best Buy the week of 5/27 for $329.99. If you are in the market for a cool looking soundbar with nice performance, then VIZIO has you covered, be sure to check out the press release or source link below for more info.
[wpspoiler name="Press Release" ]
VIZIO's Premium 42″ 5.1 Home Theater Sound Bar Delivers Big Audio, Completing the Big Screen Experience -New Sound Bar Features Stunning Modern Design with Advanced Convenience Features like Bluetooth, Wireless Subwoofer and Display Remote Irvine, CA- May 21, 2013 – VIZIO, America's #1 Sound Bar company*, today announced the pricing and immediate availability of their award winning 42″ 5.1 Home Theater Sound Bar with Wireless Subwoofer and Satellite speakers (S4251w). Winner of CNET's 2013 Best of CES Home Theater and Audio award, VIZIO's newest Sound Bar brings enhanced innovations to the category with superior surround sound and new convenience features, such as a Display Remote and Bluetooth connectivity. Featuring a wireless subwoofer that can sit up to 60′ feet away and rear satellite speakers that easily connect to the subwoofer, the 5.1 Home Theater Sound Bar envelops the living room in immersive, true cinematic audio. Complete with Dolby Digital® and DTS Digital Surround™ audio technologies, the sound bar matches superior sound to great picture thanks to 102 dB of crystal clear, room shaking audio with less than 1% Total Harmonic Distortion**. Additionally, DTS Circle Surround™ upgrades standard stereo content from the listeners favorite band or artist, resulting in 5.1 surround sound playback. Ideal for medium to large sized HDTVs, VIZIO's newest audio solution sports a stylish design, comes with all the cables needed to connect to your TV and conveniently mounts under screens as a seamless extension of the entertainment experience. "The new 42″ 5.1 Home Theater Sound Bar has been engineered to project 102dB of sound with very low distortion, further ensuring audio is heard as the artist intended," said John Schindler, VIZIO VP of Product Management. "As one of the only 5.1 sound bars on the market, our award-winning 42″ model is a great value, featuring a wireless subwoofer that offers room-shaking bass performance going down to 40Hz, satellite speakers for rich, immersive audio and Bluetooth so you can stream music from your smartphone or tablet and enjoy it in 5.1 surround sound without even turning on the TV." Understanding how consumers interact with their sound bars, VIZIO's flagship 42″ 5.1 Home Theater Sound Bar features a remote with built-in LCD display, making it easy to control volume and settings from a distance. This new Display Remote eliminates the need to squint across the room to view current input, adjust bass or enable the built-in DTS audio technologies. The added convenience of built-in Bluetooth support also gives consumers the ability to stream music to their VIZIO sound bar directly from Bluetooth-enabled smart phones, tablets or other audio playback devices. Packed with the latest audio technology in a modern, industrial design, VIZIO's 42″ 5.1 Home Theater Sound Bar provides a best-in-class surround sound solution, able to satisfy even the discerning ears of serious audiophiles. Additionally, the award-winning model has the ability to connect to nearly any HDTV right out of the box with all necessary audio cables included. Consumers can find the 42″ 5.1 Home Theater Sound Bar now at Amazon.com, Costco, Costco.com, BestBuy.com, Walmart.com, VIZIO.com and in-store at Best Buy the week of 5/27 for $329.99. VIZIO also currently offers a 32″ 2.0 Home Theater Sound Bar (VSB207BT) with Bluetooth through retailers such as Amazon.com, Walmart and Walmart.com and VIZIO.com for $89.99. Ideal for consumers with smaller TVs or living rooms, the 32″ sound bar is a serious sound set-up with built-in Bluetooth that allows users to stream audio wirelessly from their smartphone, tablet or other Bluetooth enabled device. Other exciting additions to the VIZIO sound bar family will roll out later this summer.
[/wpspoiler]
Source: VIZIO