Last year LG's G5 was more ambitious than applicable. Modular designs were always a hopeful trend in the smartphone world, but LG's idealistic attempt just wasn't well received in the market.  Well, this year they've managed to correct their ways and get back on the correct path with the new LG G6 flagship. The keyword is "flagship" because this time it feels like they finally got it right since the release of the LG G4. The G6 can actually handle the mainstream competition (Apple iPhones & Samsung Galaxy's) with its new improvements and implementations.
Device Design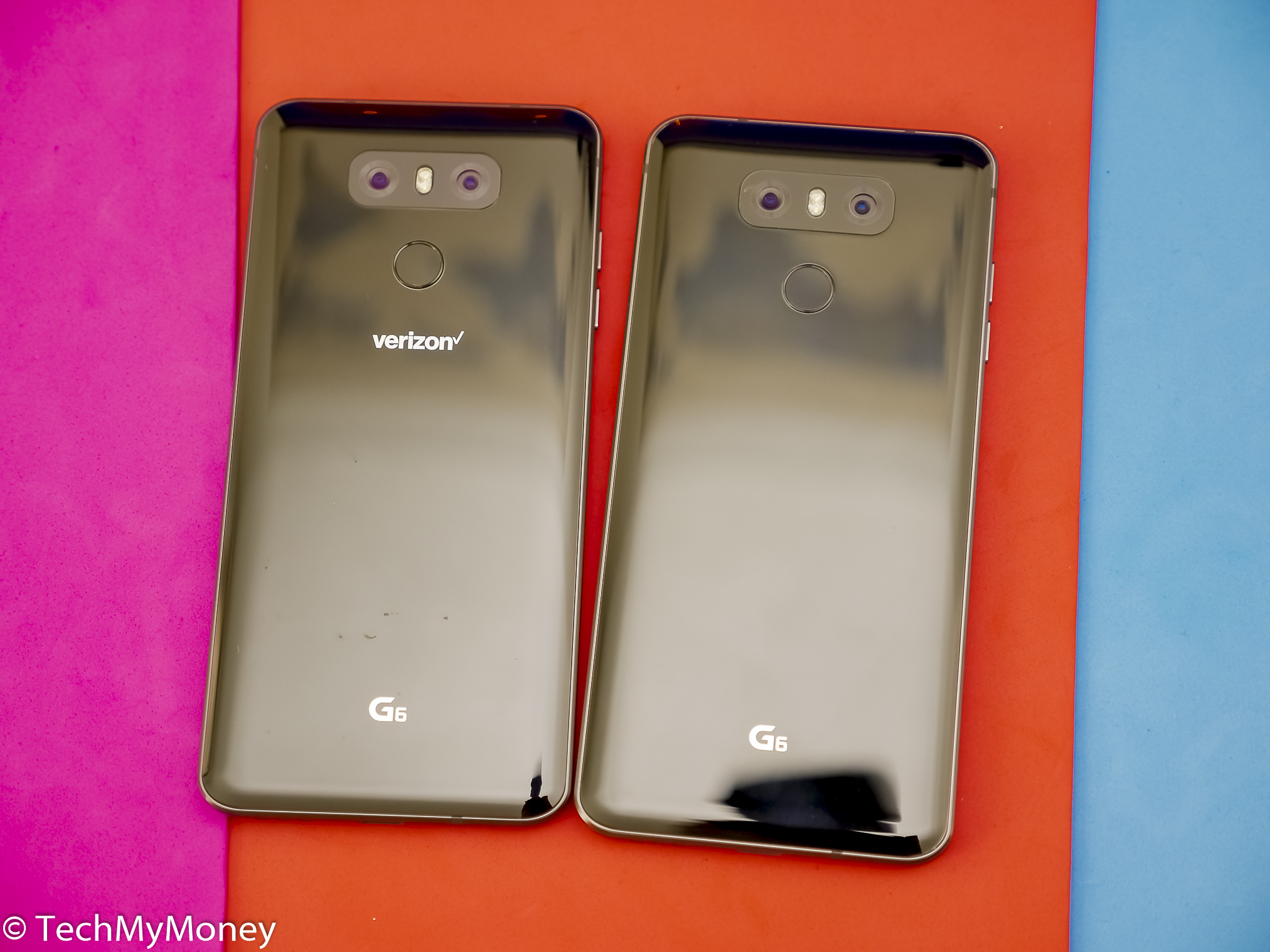 First things first, once you unbox this sleek, shiny device you'll notice right away, gone is the flimsy, plastic metal feel. Now replaced with an elegant Gorilla Glass 5 back and aluminum sides simply feel good in the hands. Another thing you notice is how long the device is and the rounded display corners once the device is booted up. LG says that rounded displays are great for preventing damage to the displays when the smartphones are accidentally dropped. Added to this display is a 1st for LG, IP68 dust and water resistance rating. The dual camera setup is still present but now it's more flush with the glass back of the phone and it too has its own Gorilla Glass stamp over the dual lens setup. Below that, you'll find the fingerprint sensor/home button. The volume keys and microSIM/microSD tray are on the left and right side of the device (respectively). Lastly, LG kept the headphone jack (at the top) while the bottom of the device houses the USB Type-C port and a speaker. LG's shortcut buttons returns as well. Sure the volume buttons aren't on the rear (personal preference) like they were on the early "G" series smartphones (LG G4 being that last with rear volume buttons), but they have maintained their "double click while the screen is off" functionality. While your screen is off you can quickly enter the camera with a double press of the volume down button, and you can quickly take a note with the double press of the volume up button to access quick memo. The LG G6 is solidly functional, no special gimmicks or useless features necessary.
Display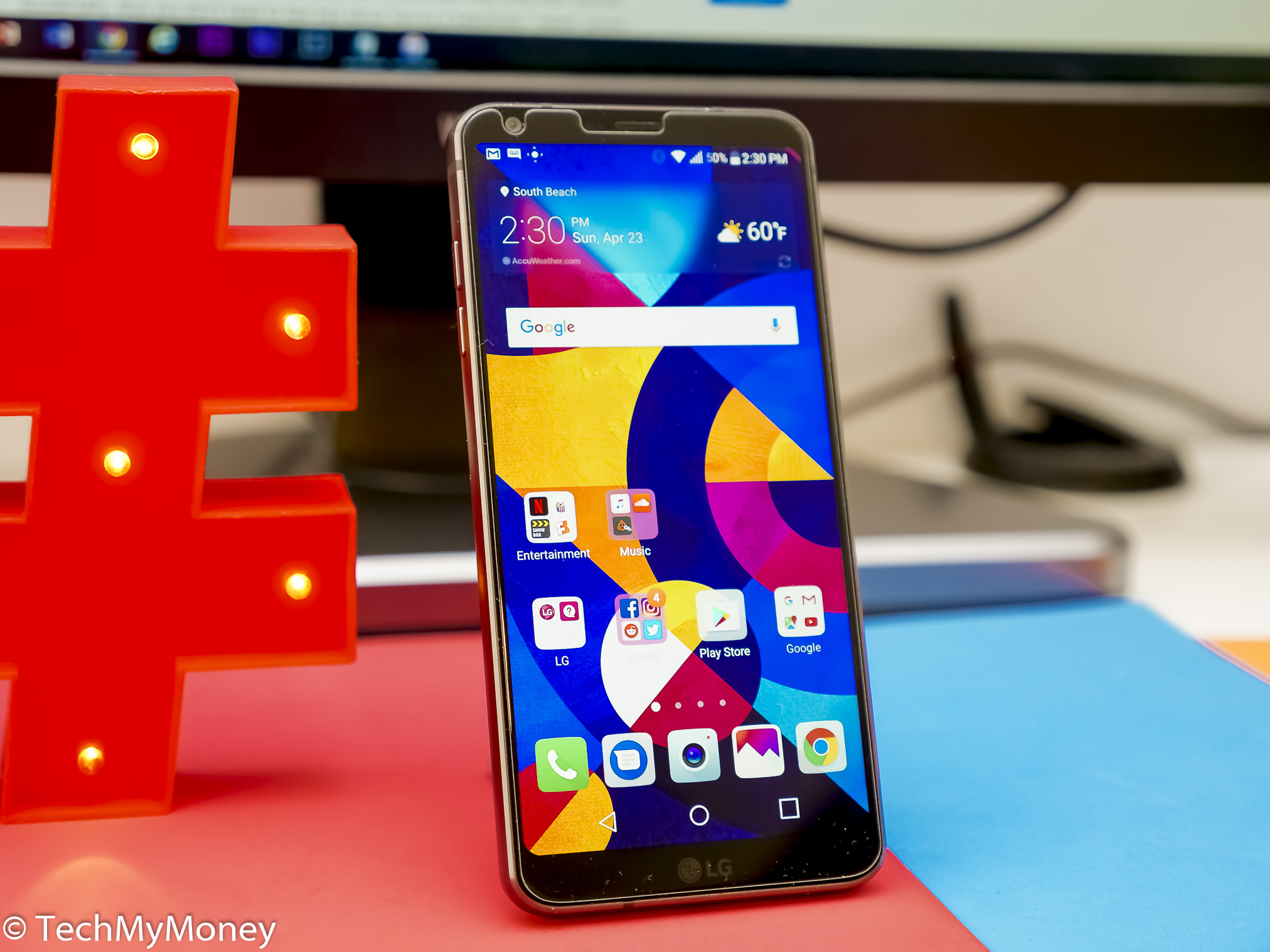 This gorgeous 5.7-inch, 2880 x 1440 resolution LCD display comes with very thin bezels this time around. LG believes that the switch to an 18:9 aspect ratio is the perfect move for the future. Out of the box, the device supports HDR10 and Dolby Vision as well. Specs aside, images and videos look bright and crisp with this "FullVision" display, and the colors are mostly accurate. LG's screens have always had a more bluish tone rather than a perfect white so you may be able to detect that hint of blue but the new "ComfortView" feature aka the bluelight filter can help with that correction by making the screen a bit warmer. Viewing angles on the LG G6 are also excellent no matter how you hold or view the device.  Even some of LG's native apps (like contacts or calendar) can make use of the larger screen by displaying dual sided information in 2 square panels that fit the entire display.
LG UX 6.0/Software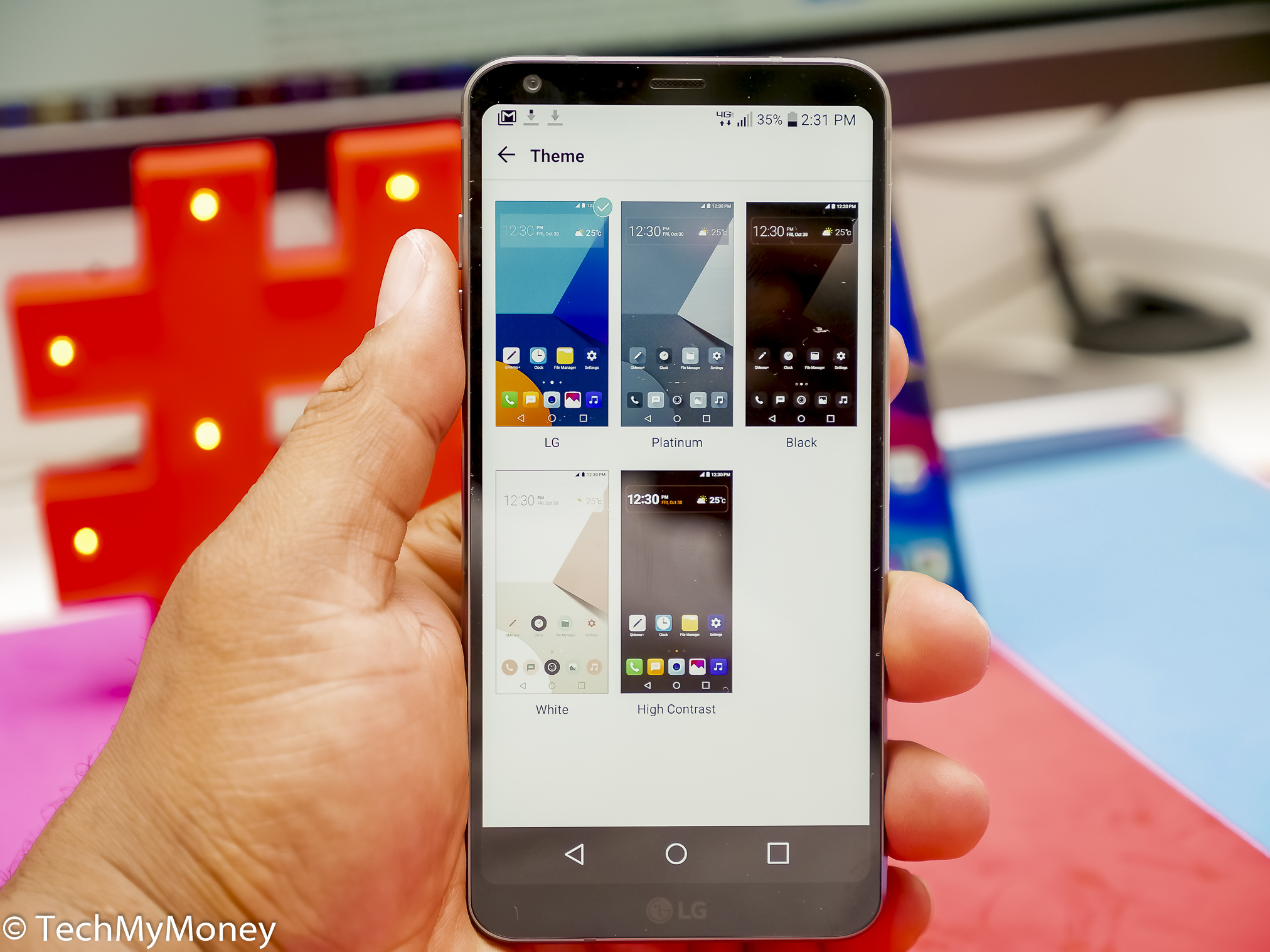 LG's UX custom user interface was always terrible in the past "G" series smartphones. They were mostly cartoonish and blockish. With Android 7.0 Nougat LG changed things up and went with a softer, "rounded" box approach. Similar to Samsung's newest Samsung Experience UI. Users can go to the "Home Screen" settings and remove the app boxes or they can do as I did and jump over to "LG SmartWorld" and grab a free theme or two to add a bit of flair to their devices. LG brings back their trusty smart features like KnockON. Other customizations are available such as tweaking your notification menu, navigation keys, home screen, lock screen, and even display scaling for those that prefer larger or smaller icons and fonts.
Google Assistant Availability
The LG G6 was supposed to be the only non-Google Pixel device that had access to the new virtual Google Assistant. But Google had other plans and released the Assistant out for other supported devices after LG made their announcement. Regardless the LG G6 is one of the newest flagships that has the Google Assistant and it handles it very well as if it was on the Pixel devices.
Performance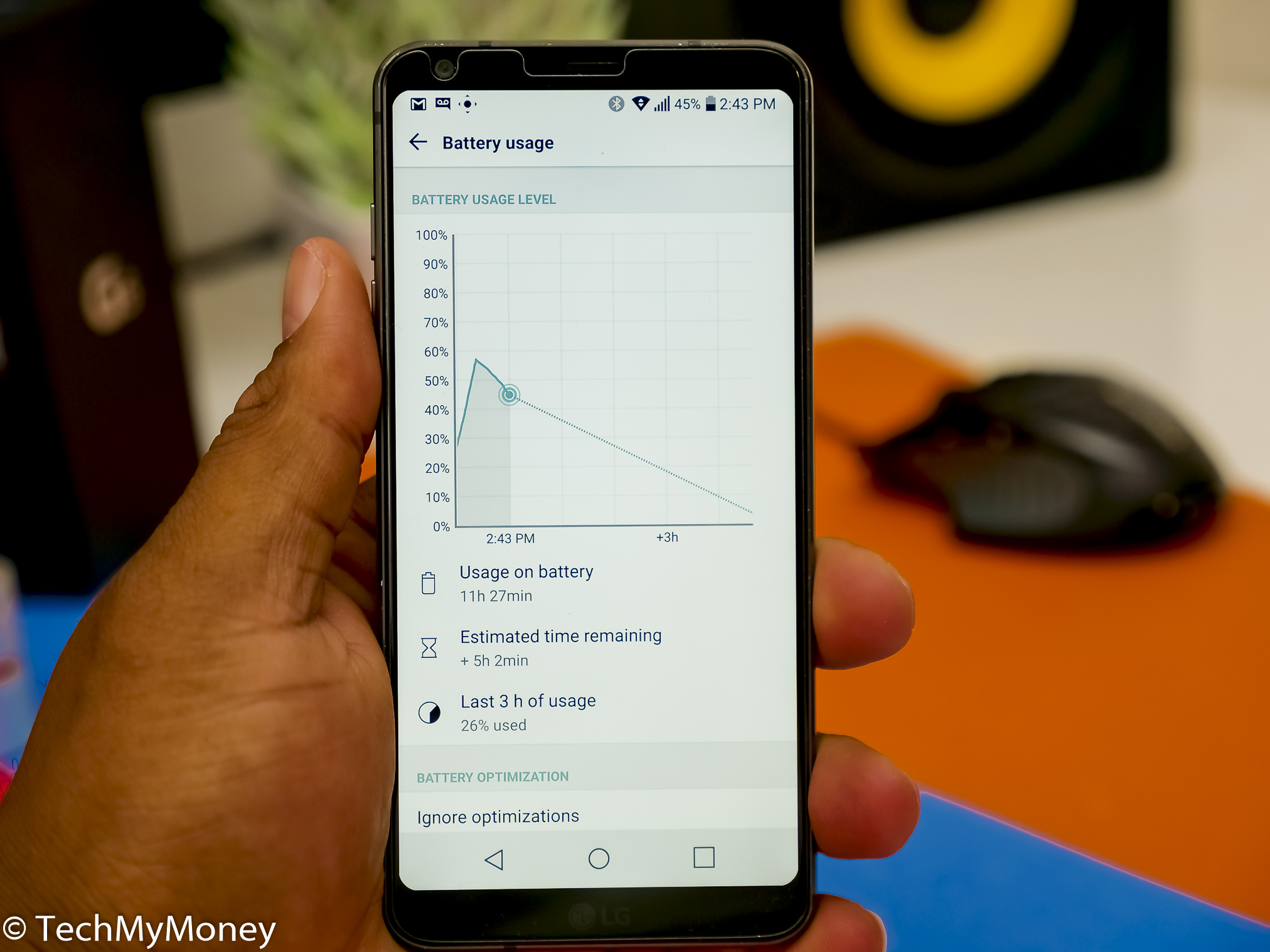 LG didn't want to wait to be able to access the Snapdragon 835 chipset so they took a chance and ran with last year's Snapdragon 821 instead. Accompany that with 4GB of RAM and an Adreno 530 GPU chipset and you have a very steady performance build for a smartphone. As a consumer (and a reviewer) I'll take last year's chips (with this year's body) as long as the hardware and software run well together for long periods of time. Rather than to have a new chip and it struggles with daily use because of horrible software optimization. LG got it right despite not waiting for a better chip. It zooms through apps and games easily without any stutters or lags, which isn't surprising at all since the Google Pixel uses the same Snapdragon 821 and works just as fine.
Multitasking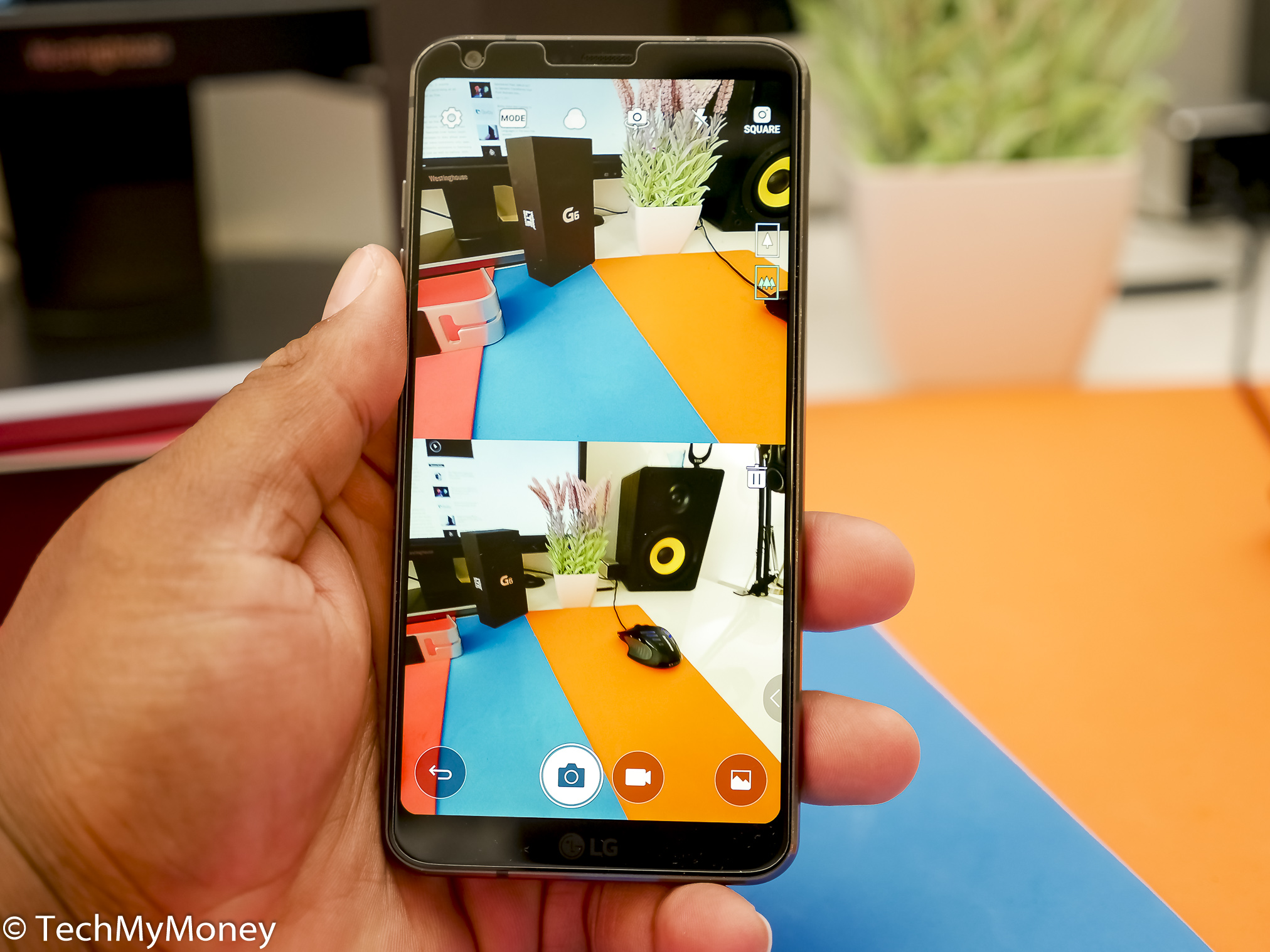 Android devices are known for their ability to multitask better than other mobile OS's (ahem Apple). And with the competition getting smaller each year as the Android OS updates and adds newer features that were once and OEM-only feature, very few remain at the top of the Android food chain for consumers that opt for features over looks (such as the Google Pixel). LG is among that small batch that still manages to stay afloat even though the latest Android 7 Nougat update added features that were commonly only seen on LG devices. For instance, split screen mode (which was primarily exclusive to Samsung and LG) makes a comeback with Android Nougat and works just as well as before. With the much larger screen, using two apps at the same time is much more fun and functional since you can easily see everything. And if necessary you can make one split screen window larger than the other for more visibility.  LG also keeps Quick Slide apps which are native LG apps that can be run in smaller windows on top of any application that you are running. Quick Slide apps are great for quickly checking your calendar, making a phone call, making calculations or checking your contacts list while you are watching a video or reading an article on TechMyMoney.
Camera(s)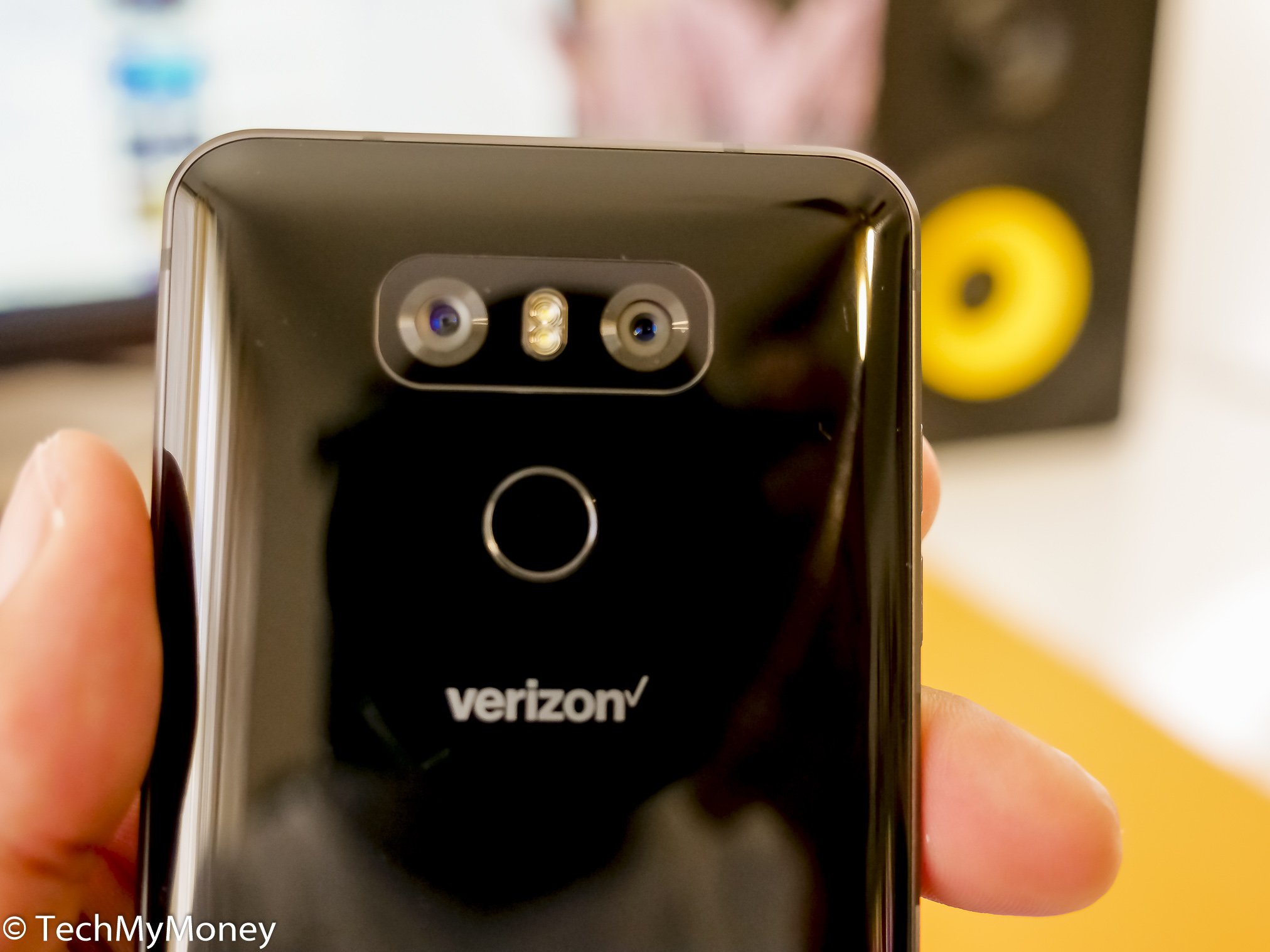 Gone are the days of single rear cameras. Well not quite yet, but we are nearly there. Apple and several Android OEMs have fortunately blessed us with the ability to have dual cameras as a norm here in 2017. Sure they aren't a necessity but you must admit, they are an "eye" catcher for mobile photographers and random group photo moments. LG brings back the dual camera lens setup to the G6 and I'm not surprised since they've become a flagship feature. The resolutions have shifted quite a bit in contrast to last year's setup on the LG G5. Instead of an 8MP wide-angle camera and a 16MP main camera, the LG G6 comes back with both lenses shooting with 13MP. Not only does this make the resolutions paired together but they both shine independently even though the quality of the shots are very similar during the daytime or with good lighting. The main camera has optical image stabilization (OIS), phase-detection autofocus and a f/1.8 aperture. The wide-angle lens (125-degree viewing angle) doesn't have OIS or the phase-detection autofocus but it does have an aperture of f/2.4. At night though, you'll notice the difference, even more, the main camera can handle night mode wonderfully, but the wide angle shooter can't properly expose the images plus all of the nighttime shots come out fuzzy looking. Without OIS in the wide-angle lens, you can expect that it will only get used for group photos and wide-angle shots with decent lighting. Also, don't forget the 5MP wide-angle front-facing selfie, it manages to do its job well for taking selfies. Swapping between all three cameras is very smooth and lag-free. One thing that LG does masterfully, is camera software, especially PRO mode where manual controls are offered. You can expect LG to deliver the best camera software for years to come. The LG G6 gets that same PRO mode functionality as the powerful LG V20 which impressed us across the board. While using PRO mode we managed to pull out some godly awesome shots. Each was very detailed and perfectly taken. LG even tossed in some Instagram-friendly "square modes" for that perfect 1:1 ratio. With the large 18:9 display of the G6, LG even added other modes for square shooting like instant previews and grid shooting. Even the video mode has manual, which is a rarity these days, I'm impressed with these cameras and the software.
Daily Driver Potential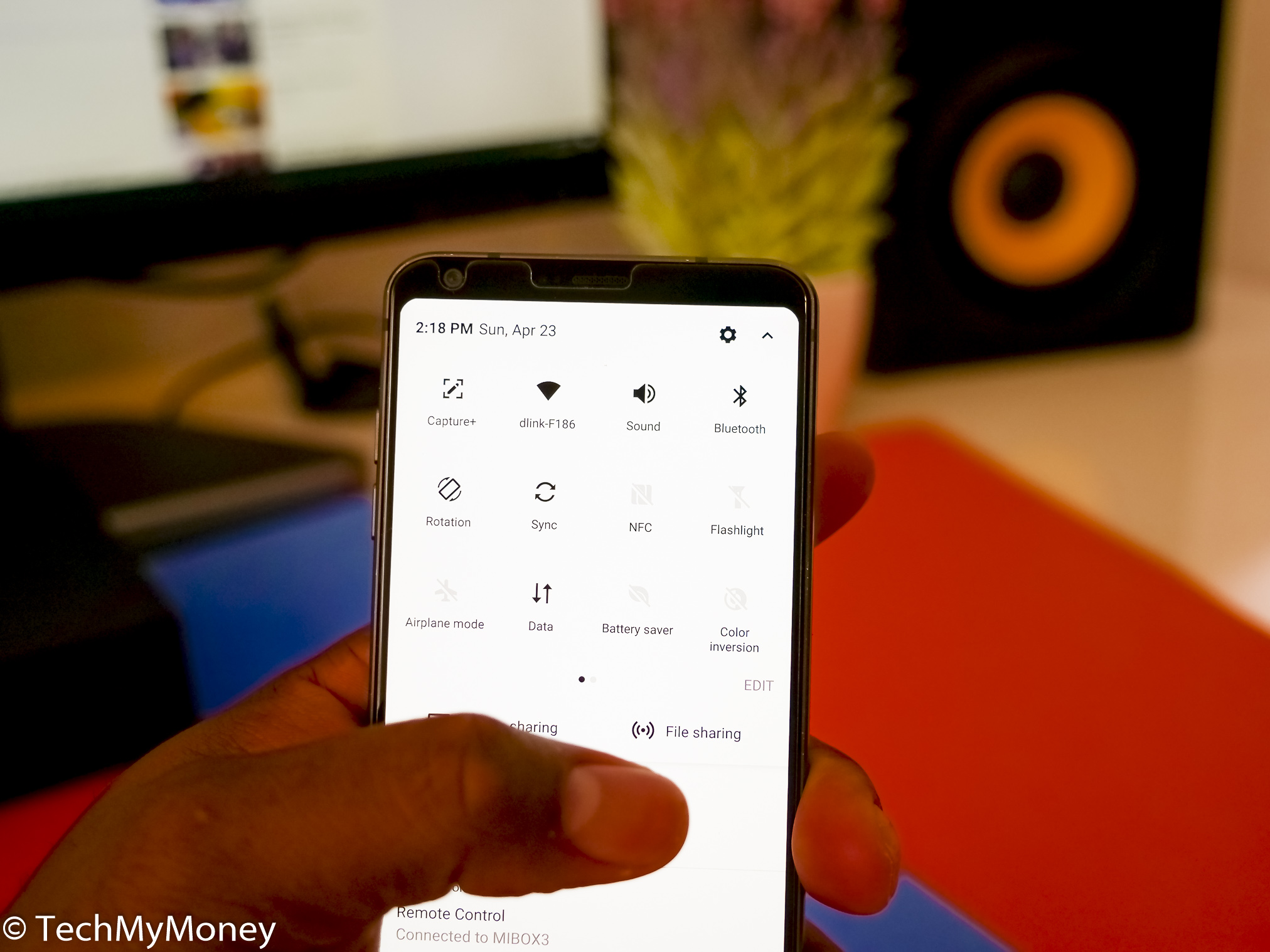 When new phones are released we as consumers are often amazed by the new features, gimmicks, amazing presentations and device colors, but regardless of it all when we have to put nearly under a $1,000 down for a flagship device we want one that works well for long term usage. We also want something that can handle the nearby competition so while amongst other we don't feel like we paid for an outdated or poorly designed device. The LG G6 is definitely on my list as a device that has excellent daily driver potential. I don't feel outdated or out of touch with the modern wave of smartphones. Actually, people often stop me and ask what kind of phone is it. They are often stunned by the large screen size and dual camera setup with the glass back. In the age of iPhone and Samsung Galaxy dominance rarely will an Android "flagship" maintain its position but LG's G6 & V20 have my vote among my top 5 Android smartphones list of 2017 (as of April 2017). Sure the V20 is bigger, has plenty of mics and has an excellent audio DAC, but the LG G6 has much more to offer, it boasts a taller display, feels better in hands, water resistance, supports wireless charging, has better performance and its design just looks more elegant and refined.
Sure the Samsung S8 & S8+ may be the current buzz but the one huge differentiator between LG's G6 and the S8 is that the G6 has passed 14 approved military standards tests, including shock, humidity, sand and high-temperature tests. With most smartphone bezels becoming smaller, they need to become more durable. LG's goal is to create a premium, reliable phone allowing the user to worry less when they drop their devices accidentally. Now you don't need to feel bad about having a beautifully "naked" phone while everyone else covers up their devices for fear of damage during drops.
Here's some extra additional information on features and those tests from LG's press release:
LG Press Release
Moreover, the LG G6 has the distinction of having met and passed the MIL-STD 810G standard for durability, conducted by independent testing and certification firm MET (Maryland Electrical Testing) Laboratories. The G6 passed the following 14 tests: Low Temperature, High Temperature, Humidity, Vibration, Solar Radiation, Low Pressure, Sand and Dust, Immersion, Temperature Shock, Salt Fog and Rain. Tough enough to pass military standards tests, the LG G6 is ready to tackle your day-to-day activities with confidence.*
**Military standard tests include the following: MIL-STD-810G Low Pressure (Procedure II) Method 500.5, High Temperature (Procedure I – Storage) & (Procedure II – Operation) Method 501.5, Low Temperature (Procedure I – Storage) & (Procedure II – Operation) Method 502.5, Temperature Shock (Procedure I-C) Method 503.5, Solar Radiation (Procedure I) Method 505.5, Rain – (Procedure III) Method 506.5, Humidity (Procedure I) Method 507.5, Salt Fog – Method 509.5, Sand and Dust (Procedure I) Method 510.5, Immersion (Procedure I) Method 512.5, Vibration (Category 4) Method 514.6, & Mechanical Shock (Procedure IV) Method 516.6. Passed 14 different MIL-STD 810G Tests for durability conducted by an independent laboratory in U.S. that conforms to U.S. military standards. Device may not perform as tested in all conditions. Test performed in controlled environment. Do not attempt."