In a world with so many Bluetooth accessories, it only makes sense that one of them tries to do simple task your smartphone does at a glance without having to always pull out the phone. Pinn tries to address that. It is a multi-tool or swiss knife for a modern smartphone. In this review, we'll see what it does well and what it doesn't.
In the box
We have Pinn and its earbud, ear tips, USB cable and a manual.
Design and build quality
Pinn's design is great. Pebble-like and rounded to fit in everyday life. It is also light with chamfers and curves making it look like a well thought out and designed product. Most of it is made of Aluminum and there's a little plastic but it is hard to tell where the two separate or differ making Pinn feel solid and very well built. The main complaint about the design is at the level of the earbud. Just below the white ear tip, there is a sharp edge which feels uncomfortable everytime I try to put it in my ear. Apart from that solid design and build quality.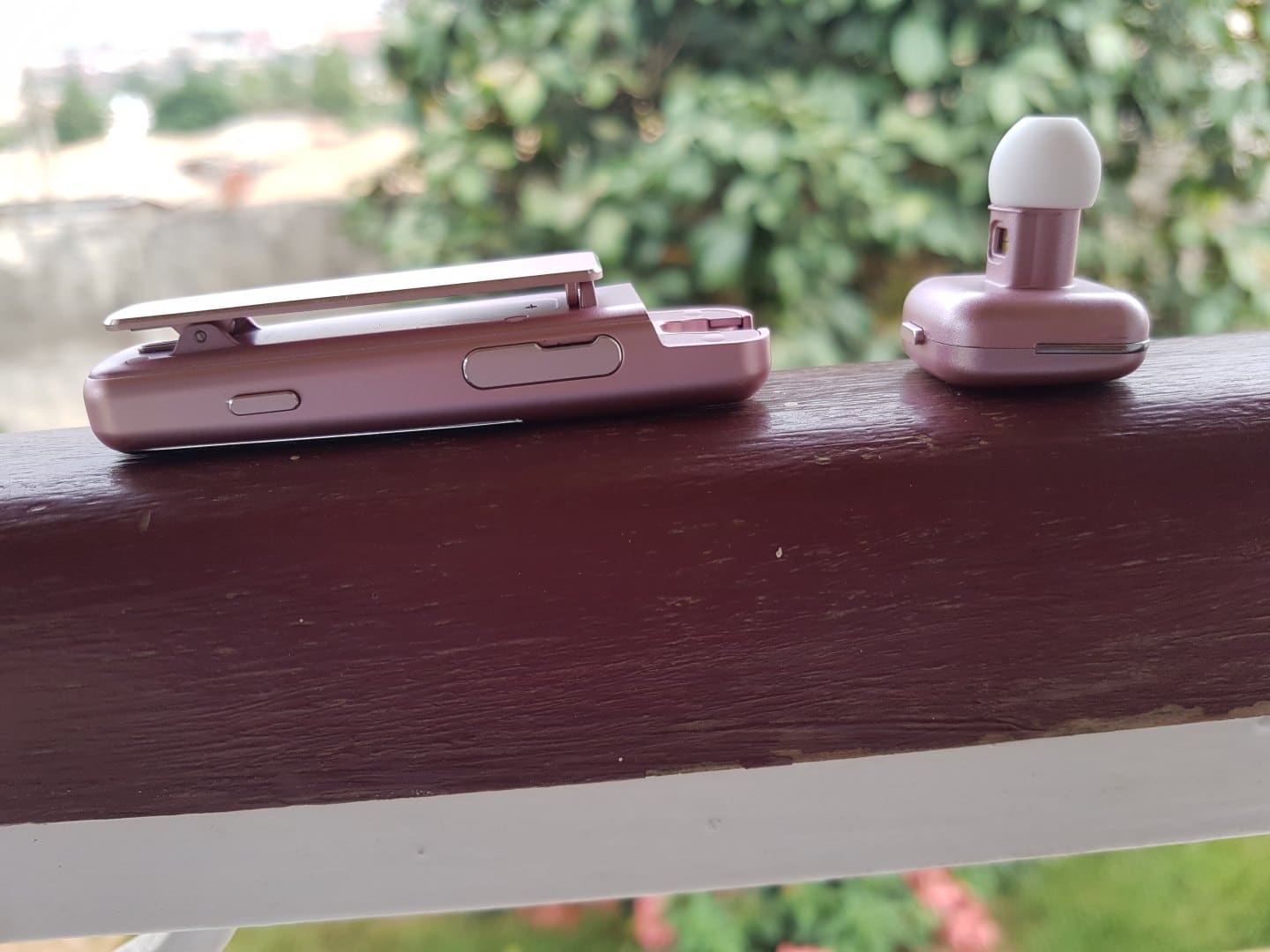 Versatility
We've titled Pinn as a versatile smartphone companion thus it is only fair we test that out. It can be used as a remote shutter for your smartphone. You can answer calls and read text messages with its OLED display. It can locate your phone if lost. Also, you can use it as a Bluetooth headset or turn anything else into a Bluetooth device using its 3.5mm headset jack. Notifications can be viewed on the screen as well.
Pinn uses 4 buttons to navigate its ui. Volume rocker for left and right navigation, power button for going back or turning off the screen and a select button. The single button on its earbud is multi-functional for answering calls, pausing music or triggering a voice assistant(Siri, Google Now or Google assistant). It has tiny speakers for sound feedback indicator lights and microphones.
Pinn fails to read SMS and calls even after the apps is setup. I often get errors when trying to retrieve them and sometimes the device will just freeze and return an error. Same thing goes with notifications. I get notified but on trying to view them it doesn't work. This isn't every time and may be fixed via software updates as I have a prototype unit. That is yet to be seen. IOS support is finicky and not ready yet for the mainstream. What Pinn does best is Music, answering and placing calls. The quality through the earbud isn't good but it is expected due to the small size and tiny drivers. It is acceptable but not great. When docked you can plug in an aux cable or headphones to enjoy music from your smartphone. While the range isn't stellar(about 5-6m without interference) the sound quality depending on the headsets can be really good. Shutter button and phone finding features work well too.
Battery life
Pinn can be charged between 45minutes to an hour depending on the outlet and the battery life is just ok. It isn't great in any way. While connected to your phone and doing nothing it can last long even about 12 hours. Playing music isn't the same story. It can last around 5 hours before going out of juice. with notifications and having to undock and dock increases battery drain. You probably need to keep its earbud docked all the time and turn off app notifications from its smartphone app.
Conclusion
Pinn tries to be versatile but fails in notifications which are a core part of our lives today. You can't interact with them and only view which prompts you to take out your phone thereby defeating Pinn's purpose. Music, answering calls and finding our phones are still part of life but the true smartphone call is a notification and not a phone call. We hope they can fix these issues to land what they aimed at achieving here. If you are looking for a device to transform your wired headset or car aux to Bluetooth with some extra capabilities, you may want to consider this. For the notification warlords, this may not be for you just yet. It will be available during CES 2017 via the Kickstarter page here!