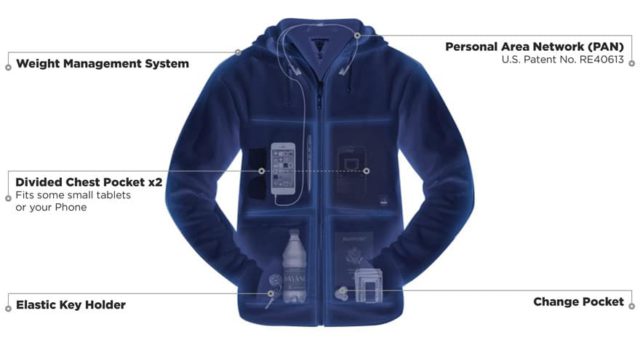 I travel a lot for tech events locally and internationally. Locally I don't worry much,  internationally, that I need some extra level of organisation. If you've ever lost a gadget or luggage in another country, you'd agree with me that retrieving your missing gadget from another country is a quest even Liam Neeson would reject. A light backpack can get the job done but, that too can be misplaced, forgotten or stolen. In my search for something that would keep my gadgets, international passport and valuables in my line of sight while I attend these events, I happened to come across SCOTTeVEST tech clothing line (SeV) for short.
A little introduction about the company will help you understand why every techie needs their clothing line in their arsenal. SCOTTeVEST, has been producing their patented TEC, or Technology Enabled Clothing, since 2000. SCOTTeVEST's (SeV) clothing line keeps your gear at hand without needing a bag, using staggered pocket placement and weight management to keep you comfortable. Their clothing line consists of a variety of jackets, shirts, shorts, hats and accessories for both men and women, one thing they all have in common is, they all come with lots of pockets. Some of their clothing lines come with touch pockets that provide quick access to mobile screens and even RFID-blocking zones to help keep travel documents and wallets safe from airwave hackers.
I recently had the opportunity to try out the SCOTTeVEST Hoodie-Microfleece, use it for a couple of trips and intend to use it for more. The X-Ray picture below saves me a whole load explanation as the picture speaks for itself. You can buy the Hoodie-Microfleece from the SCOTTeVEST site for just $80 or you could check out their entire collection for something else.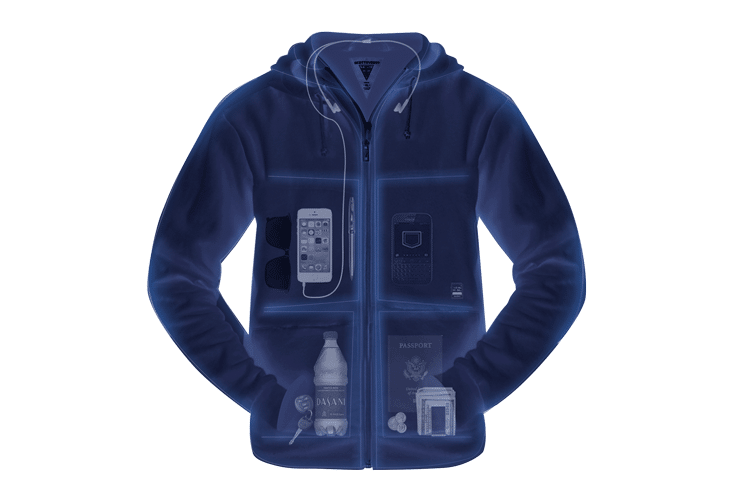 SeV hoodies are the epitome of
comfort combined with functionality.
The Hoodie-Microfleece has
10 thoughtfully engineered pockets
for all of your gadgets and essentials. The
4 interior pockets
(2 large pockets, each divided into 2 compartments) have
snap closures
for maximum comfort. The front
handwarmer pockets
are each separated into front and back compartments and also have a
top drop
feature—a third pocket that is accessed from the top of the handwarmer pocket with a snap closure. The fabric is a soft microfleece. The rib knit cuffs have
thumbholes
hidden in the seams and the
hood is adjustable
. There is an
elastic loop
in the right front pocket that can be used to secure a key chain or other items (use your imagination!). If you like The Hoodie-Microfleece and want another SeV hoodie, check out
The Hoodie-Cotton
for the same great design in a different fabric. While both have men's sizing, we find that many
women love this style, too.
Whether layered over an
SJ Qzip
or under a
Puffer Jacket
, the SeV hoodies will become an indispensable part of your wardrobe!
SCOTTeVEST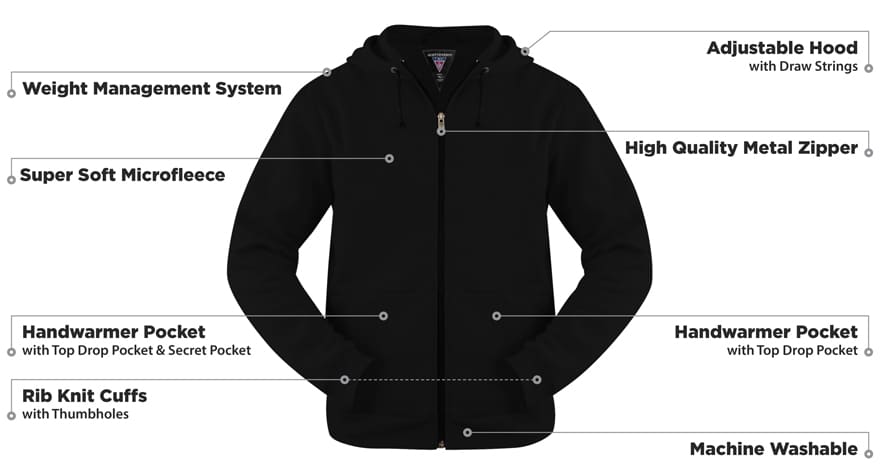 The company finds really interesting ways to stash pockets in almost every clothing or accessory they make, I kid you not, their hats have pockets to store your keys, cards and cash! If you are looking for some sort of organization for gadgets for your daily commute or long trips, you should definitely check out the SCOTTeVEST website.
Source: The sample for this review was provided by SCOTTeVEST. Visit their site for more information.