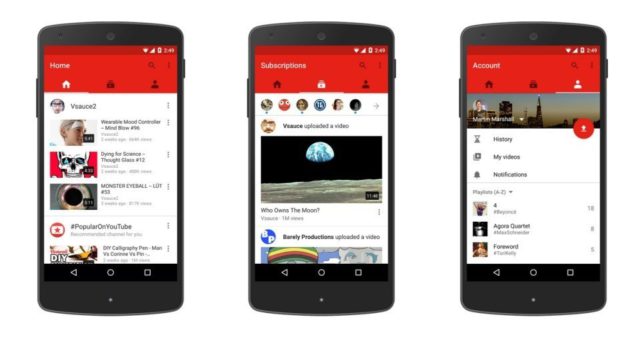 YouTube CEO Susan Wojcicki announced a new version of the YouTube mobile app during a keynote speech at the 6th annual Vidcon event. The new app makes the YouTube Creators experience easier. Now creators can publish and edit directly in the app and makes it easier for viewers to subscribe to a channel with just the touch of a button. In the new YouTube redesigned app, the creators subscriptions and profile is now at the top of the app so viewers won't have to scroll down at all to see it. When you get this new version, you'll also be able to watch vertical videos we noted in our past post.  The new YouTube app is available for both Android and iOS devices right now. YouTube still hasn't approved 3D Virtual Reality videos yet, but it's coming very soon. Hopefully it will perform well such as the current 360 videos (and ads).
Lights, camera, upload! The new YouTube app lets you edit and share from your phone. #VidCon pic.twitter.com/K1cT9SuHti

— YouTube Creators (@YTCreators) July 24, 2015
A new YouTube subscriber reward is also going to be available for content creators, called a Diamond Play Button that YouTube will give you when you have reached ten million subscribers.
Virtual reality is coming to YouTube with 3D, 360-degree video. More details soon! #VidCon pic.twitter.com/PVJ1ElLly5

— YouTube Creators (@YTCreators) July 24, 2015