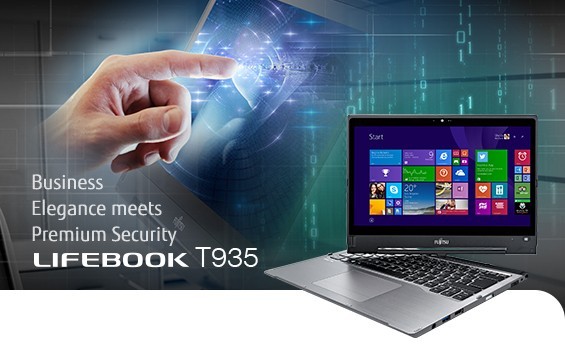 Fujitsu has recently announced three new hybrid (2-in-1) tablets. The three tablets are the Fujitsu Lifebook T935, Stylistic Q775 and Lifebook T725. These tablet PCs are strictly designed for professional use, all three carry large screen displays, run on Windows OS and use Intel Core Broadwell processors.
The Fujitsu Lifebook T935 uses a 13.3-inch Bi-Rotating IGZO™ WQHD (2560 x 1440 pixels) resolution touchscreen display with Pen support. It can last up to 11 hours on a full battery, supports up to 8GB of RAM and as mentioned above comes equipped with an Intel Core processor. It runs on Windows 7 (64-bit), Windows 8.1 (64-bit) or Windows 8.1 Pro (64-bit).
Its exterior is an ultra-thin, durable aluminum housing with magnesium lid, 17.1 mm tall, and its super lightweight (1.47Kg) for ease of travel and comfort.
Other features of the Fujitsu LifeBook T935 includes a backlit keyboard, two USB ports, two built-in Full-HD Webcams, two built-in mics, two built-in stereo speakers, Bluetooth 4.0, Wi-Fi and optional 3G/UMTS and 4G/LTE support. It also comes surprisingly equipped with enterprise-grade security features and a pull-out LAN connector.
All three hybrid tablets will debut in Japan first, then take off to Europe and the US this year. There is no word on pricing yet but don't expect these tablets to be easily affordable.
If you want more detailed information check out the Fujitsu Lifebook T935 Tablet.
Also check out the other 2 professional hybrid tablets by Fujitsu: Fujitsu Stylistic Q775 & Fujitsu Lifebook T725