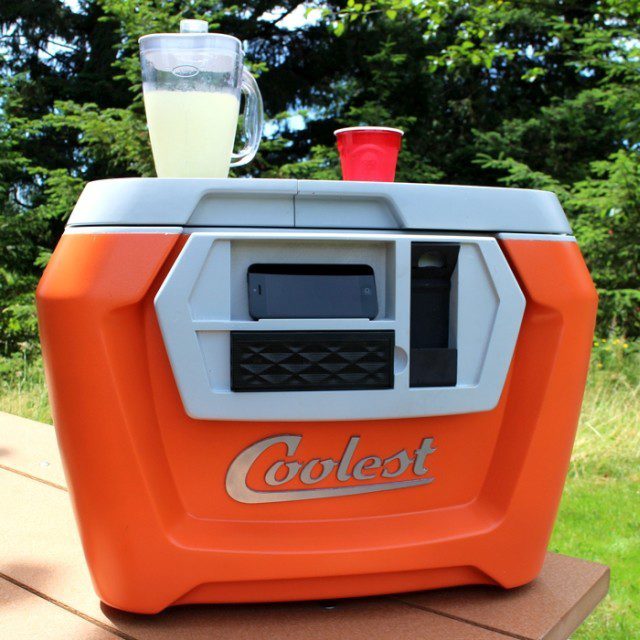 The coolest cooler, a 21st Century cooler fetches in over 4 million dollars of pledges from anxious backers on kickstater.com. Boasting a rechargeable built in blender, bottle opener, removable waterproof speaker, and USB charger just to name a few of its amenities. The built in blender is expected to power through approximately 6 gallons of blended goodness on a single charge. There are no details on the battery life of the speaker or its specific specs, no exact specs on the battery built into the cooler to charger your USB devices either. The cooler also has to have a built in LED light to help see what refreshment your pulling out in the dark. The coolest cooler will also feature built in storage for knives as well as a cutting board. I don't think creator Ryan Grepper expected this much support exceeding his initial $50,000 goal by 80 times!
[youtube http://www.youtube.com/watch?v=l4irb2K1p8E&w=420&h=315]
"Pledge $2,000 or more

8 backers All gone!

COOLEST BARTENDER: I will PERSONALLY fly out to your hometown and man your bar at your next event with the only COOLEST fully-functional prototype in the world. If you want to tailgate or host an event with the COOLEST before we're available to anyone else, then this reward is for you. I make incredible drinks and dogs and kids like me. I'd love to meet you and thank you for your support in this campaign by making your next party incredible. You also get one of the first COOLESTs to roll off the final production line signed and numbered by me."
Looks like Mr.Grepper will be racking up those flight miles in the near future according to his statement. There is no final price for the general public once released, although I don't imagine such a cool cooler will come cheap. The cooler is expected to ship out summer of next year.
Source: Coolest Cooler Kickstart