Amazon wants their presence felt as it ventures into the smart phone world. The company once known mainly for Internet shopping has expanded tremendously over the years. Known for services such as amazon prime, instant videos not to mention their affordable tablets. It's honestly no secret the words Amazon and Kindle are quite synonymous now a days.
With all the success amazon has had, will their first crack at the smart phone realm be a success? Following in the footsteps of Apple, Amazon is making this phone available exclusively on the AT&T network. The Fire will have two variants of the device a 32gb for $199.99 along with a 64gb for 299.99 with 2year contract,$649.99 no contract. The Fire is also bundling one year of amazon prime free with purchase the device.
The Fire will feature Fire OS 3.5.0 providing wide array of unique features. One feature called Dynamic Perspective seems to be more of a 3D view. Also integrated is an auto scroll function that will scroll documents and webpages by tilting the phone. Amazon will also offer remote support for the device with a function named Mayday. This will allow an amazon employee to directly connect to your device and assist you with any issues or questions you may have. Amazon claims there will be help within 15 seconds of submitting the mayday request, seems quite ambitious to me.
Featuring a 4.7inch display, 13mp rear camera, 2.1mp front camera, 2.2GHz Quad-core Snapdragon 800 CPU, with Adreno 330 GPU and 2GB of RAM this phone is not as quite powerful as its compettitors. There is no expandable store, although there is free cloud storage for all photos taken with the fire.
Here's a camera compression provided by amazon. Comparing the Samsung Galaxy S5 vs Amazon Fire vs iPhone 5s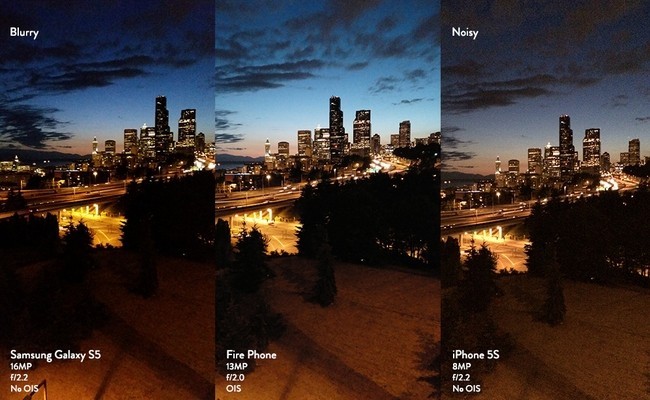 If this is an accurate translation of what the camera really offers this may give Apple and Samsung a run for their money.
One question lies ahead, will you be purchasing Amazons first phone?
Source: Amazon