Right from the launch of the Xbox One, Microsoft made it clear that their next-gen console will be taking over our living room in ways never seen before, and they've done just that. To compensate for the few music streaming app choices on the Xbox One, Microsoft just announced the coming of Pandora's internet radio service (US-only) and Vevo's music videos (in 14 countries) this week.
Pandora. Great music discovery is effortless and free with Pandora on Xbox One. Just start with the name of one of your favorite artists, songs, genres or composers and we will do the rest. It's easy to create personalized stations that play only music you'll love. Pandora for Xbox One is available to Xbox Live members in in the United States.
Vevo. Vevo offers the largest collection of premium official music videos. Start watching your favorite music videos and catch daily video premieres by downloading Vevo for Xbox One today.  Discover exciting new music videos, original shows, and live music performances from your favorite artists. Vevo on Xbox One is available in Australia, Brazil, Canada, France, Germany, Ireland, Italy, Mexico, Netherlands, New Zealand, Poland, Spain, United Kingdom and the United States.
Movie and TV fans weren't left out, as Bravo Now, Telemundo, and Popcornflix will also be available same time.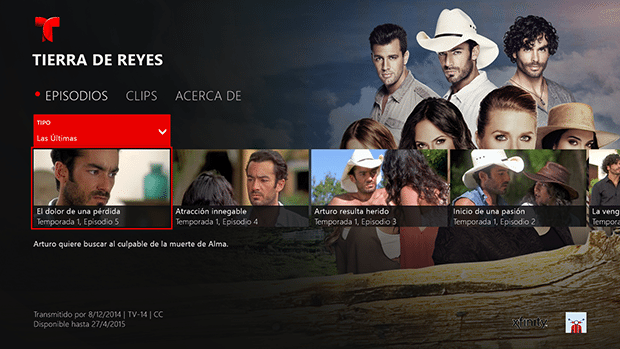 Bravo Now. Bravo Now is your one-stop destination for full episodes and video from all your favorite Bravo shows. Just sign in with your TV service provider login information and you are ready to watch your favorite Bravo programs whenever you want. Bravo on Xbox One is available in the United States.
Telemundo Now. Watch full episodes of the best Telemundo Novelas, Shows and Specials as well as exclusive content like interviews, behind the scenes and more! For the best viewing experience log in with your TV provider's user name and password. Telemundo Now on Xbox One is available in the United States.
Popcornflix. With Popcornflix on Xbox One, stream hundreds of films instantly at no additional cost. Now, you can watch a wide range of genres including comedy, action, thriller, romance, family and many more. New films are added every day. Get your popcorn. Enjoy! Popcornflix on Xbox One is available in the United States and Canada.