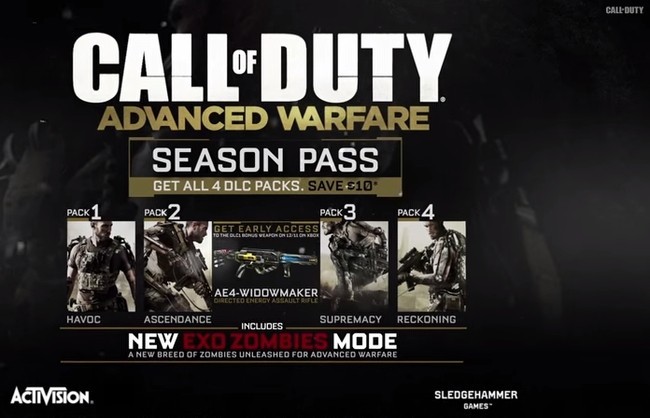 An Exo Zombies mode is coming to Call of Duty: Advanced Warfare which shall be part of the Havoc download. With the release set in January 2015, the new mode is said to feature high-tech game versions of the undead. It will be available to players of Xbox 360 and Xbox One.
News of the new mode had been rumored weeks ago. However, a video confirms that accessing the limited "Exo Zombies" version is possible by playing Riot in the current Exo Survival mode. This was also expressed in the blog post made by Sledgehammer Games.
"Some of you may have already noticed something curious if you made it to the end of Riot playing in Exo Survival mode," said Sledgehammer Games.
The team added that they have also included a little Easter Egg for those who are still in the initial prestige level in the multiplayer mode. The same is true for those who have yet to try the co-op version. The DLC packs will come in four titles wherein Havoc will be the first to be featured. It will be followed by Ascendance, Supremacy and Reckoning. Each pack will feature a new chapter of Exo Zombies, innovative multiplayer content, and more.
Sledgehammer Games first had to toy with the concept of creating a game with zombies added and coupled with exoskeleton gameplay.
The game is said to feature a fresh new breed of fighting zombies and an absolutely new co-op experience that will truly create a unique gaming concept to Advanced Warfare. The Exo Zombies mode came a bit of a surprise since zombies are usually featured only in those games that are made by 'Black Ops' maker Treyarch. Still, the upcoming mode is very much different compared to the more open-ended Zombies mode.
Call of Duty has been known to have a regimented approach when it comes to releasing downloadable content. This results to the game's almost lack of variation. Adding a new mode is therefore considered an unusual step. Other features that players can expect from each of the DLCs include new competitive maps and new weapons. Xbox players will be the first to access the AE4-Widowmaker directed energy rifle which is said to be available on Dec. 11.
"Fans can grab that DLC pack to jump in, or access via the Season Pass. More information about Exo Zombies will be coming in the next few weeks," said Sledgehammer Games.
Sources: Ubergizmo, SledgeHammer Games & Call of Duty