Samsung certainly makes good devices and seems to do a lot of things right except the design of their phones and the TouchWiz UI overlay. Samsung has already started working on addressing the design and build quality issue with the Galaxy Alpha and the Galaxy Note 4, but now Samsung could be bringing some major changes to its TouchWiz UI as well. Italian tech website HDBlog.it have shared some images of an upcoming Samsung Android device that show various themes being available to choose from on the device.
It isn't clear if the device in the pictures is running Android 4.4.4 KitKat or Android Lollipop, but it does seem to have some major differences over the current TouchWiz UI that Samsung uses. The S Finder seems to have been moved to the upper left corner of the notification screen. The notification panel looks slightly different now and less cluttered than earlier. So this could perhaps be the updated TouchWiz design for Android 5.0 Lollipop. The ability to customize the UI with themes isn't new and OEMs such as Sony have been offering the feature on their devices since a long time now. But on Samsung devices it would certainly be welcome as TouchWiz hasn't seen any major design changes since a long time and even with all the refinements that Samsung has been making in the recent past, it still looks very similar to the TouchWiz UI from a few years back. So if Samsung is indeed planning on bringing more customizability options to TouchWiz, it is great news for Samsung device owners.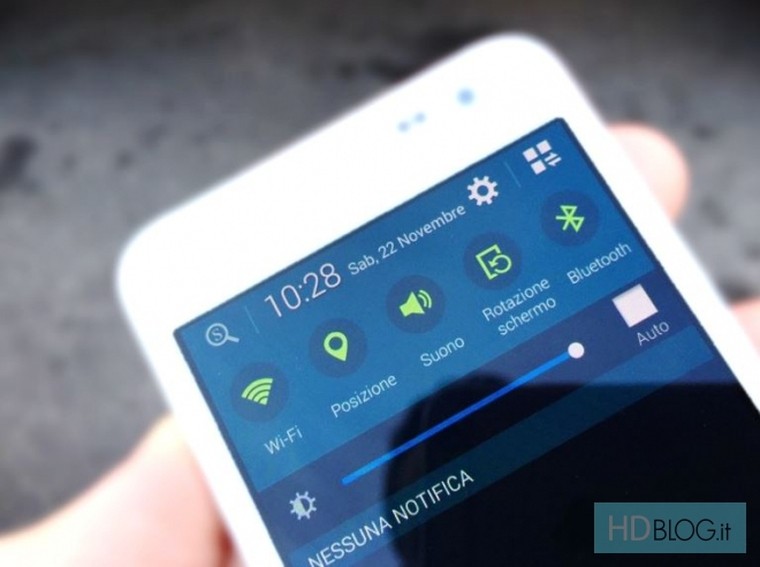 Samsung did make some positive changes with the TouchWiz UI on the Galaxy Note 4. It is no more as resource intensive as earlier and doesn't seem to affect the performance as badly as the earlier versions of TouchWiz. The Galaxy S5 for instance, suffers badly due to the high resource usage due to Samsung's TouchWiz UI overlay. Switching to a third-party launcher on the S5 and other Galaxy devices improves the performance considerably. So we do hope Samsung will continue to improve on that front as well and not just concentrate on the customizability and redesigning the various UI elements for future Galaxy smartphones.
What do you think of this? Should Samsung offer customization options with future TouchWiz versions? Or should Samsung concentrate more on making its UI closer to stock Android instead?
Sources: HDBlog.it & Android Spin