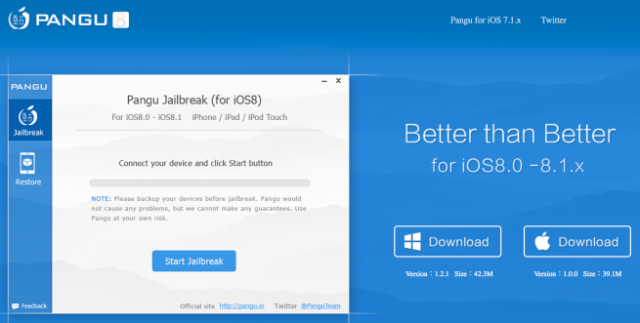 For those who have been waiting for a JailBreak for their latest Apple Devices featuring iOS 8 (iPad 2, iPhone 6 & iPhone 6+), a Chinese team of security researchers, called Pangu has finally released a jailbreak tool (by the same name). This tool was originally available only for use with Windows OS PCs, but now they have updated their software to be usable with the current Apple Mac OS.
The team has been consistently working on improving their jailbreak software and now having it available on Apple's Mac OS is just the beginning of what may be the best iOS JailBreaking tool of all time. One reason why could be the fact they have now added Cydia (by saurik) to go with the install of the Pangu app. No longer will you need to add Cydia on your own.
Pangu's new tool now offers a one-click jailbreak, so jailbreaking an iOS device has become pretty simple. Just simply hook up the device to the computer and run the application. Click on Start Jailbreak and the rest will automatically be completed. The device will restart once the deed is done, after which it will have Cydia, aka the jailbreak "App Store." Through Cydia tons of apps, tweaks & customizations are plenty. Many of these don't come with iOS devices out of the box.
A forewarning though jailbreaking an iOS device will void its current warranty but a clean previously backed up iOS install will remove any traces of a jailbreak, so if you plan on taking your device in to Apple for service, best get rid of the jailbreak.
Currently the JailBreak is only available on the following Apple iDevices:
iPod Touch
iPhone 4S
iPhone 5/5C/5S
iPhone 6/6+ (6Plus)
iPad Mini/Mini2/Mini3
iPad/iPad Air/iPad Air2
Sources: Pangu Team