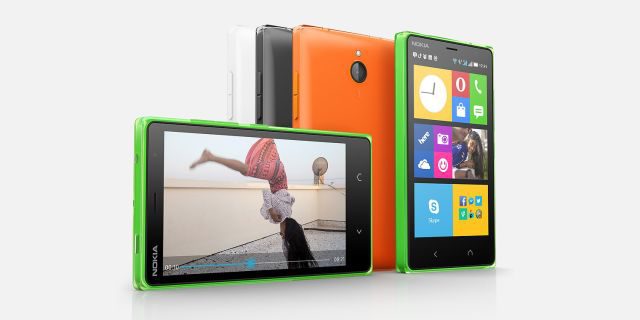 Microsoft based phones have been living in the in the shadows of Android and iOS platform for years. They have released phones with amazing cameras boasting 41 mega pixels in the Lumia 1020,  to the recent Lumia 1520 with 6′ screen and 20-megapixel PureView phablet. Even with superior cameras and great design build Nokia phones have been held back by one thing, windows mobile platform. With a small selection of apps approx 255,000 compared to the apps store for iOS and google play store holding over 1 million apps its no secret they are lacking in that department.
The Nokia X2 will have a 4.2 inch screen 1.2GHz dual-core Qualcomm Snapdragon 200 processor, 1GB of RAM and dual-SIM support and 4gb of internal storage. It will also have a micro sd slot that can support up to a 32gb card. Current specs of this phone are entry level and are about half of those current flag ships like the HTC one m8 and Samsung Galaxy s5.  The X2 will be available in a wide range of colors from white, black, orange, green. The integrated android will be heavily modified appears as windows 8 but it will indeed be android.
Although you can download and run Android apps, there are plenty of Microsoft services pre-loaded on the device. These include Outlook, OneDrive, OneNote and Bing. Users will get a month of free worldwide Skype calls. Nokia apps include Here Maps and MixRadio.
The Nokia X2 will ship globally at some point in July, although it will be available in "select countries" immediately. It seems Microsoft is getting a bit desperate or perhaps just being experimental with the new X2.
Source: Forbes, GSM Arena