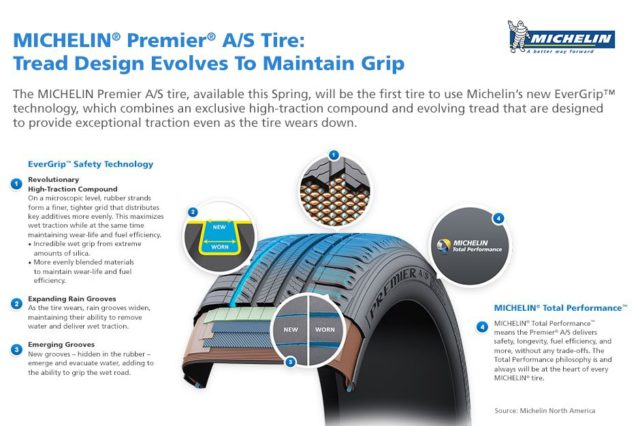 MICHELIN has taken the phrase "eating your cake and having it back" literal with their new MICHELIN Premier A/S tires. Michelin has been working hard at improving their entire range of tires, as we all know that tires play a crucial role in translating braking force to deceleration, particularly in wet conditions. Michelin designed the tread of the new Michelin Premier A/S to change/evolve as it wears, in order to maximize wet traction, wet handling and wet braking. As the tire wears, its circumferential groves get wider and the sipes on both shoulders turn into new groves. By doing this the Michelin Premier A/S maintains about a 70% tread to 30% tread void throughout its life. The MICHELIN Premier A/S tires made its debut this year at the North American International Auto Show. One can basically call the MICHELIN Premier A/S tires an all-season touring tire, intended for passenger cars like the Cadillac CTS, Ford Fusion and Toyota Camry. With that being said, the number of people who rely on all-season tires in the US are a large number of the driving population. Even most passenger cars in the US are fitted from the factory with all-seasons, and 97.5% of replacement tires are all seasons.
The MICHELIN Premier A/S tires is available in this spring starting at $156 a tire, and It comes with a 60,000-mile warranty and will be produced in 32 sizes for wheels from 15 to 18 inches in diameter.  S.U.V's are not left out in this goodness, as later this year Michelin will introduce the Premier LTX, a tire for S.U.V.'s and crossovers with the same technologies. For more information about the MICHELIN Premier A/S tires see the video and post below.
This post has been sponsored by MICHELIN, but concerns our own opinion

Unlike conventional tires, the MICHELIN Premier A/S tire uses a revolutionary design with a unique set of features to prolong wet traction even as the tire becomes worn. MICHELIN Premier A/S with EverGrip uses three main elements to provide this traction over time
High-traction Rubber Compound: MICHELIN Premier A/S with EverGrip features a proprietary rubber compound with extreme amounts of silica and sunflower oil. The silica provides the bonding strength and adherence to keep the treads on the road for high traction in wet conditions. The sunflower oil allows the tire to grip on wet roads at lower temperatures. These ingredients are mixed through an exacting process that ensures a consistent material contacting the road both when new and worn.

Expanding Rain Grooves: In most tires, as the rain grooves lose depth, the amount of water they can funnel away from the tire is diminished. MICHELIN Premier A/S with EverGrip has rain grooves positioned around the circumference of the tire with a special geometric shape that gets wider as the tread wears. This helps maintain the amount of water that the tire can channel away even as these rain grooves lose depth.

Emerging Grooves: Initially hidden when the tire is new, MICHELIN Premier A/S with EverGrip has another set of grooves along the tire's shoulder that emerge as the tire becomes worn. More than 150 hidden grooves emerge to provide additional help in channeling water away and maintaining wet traction as miles are logged.