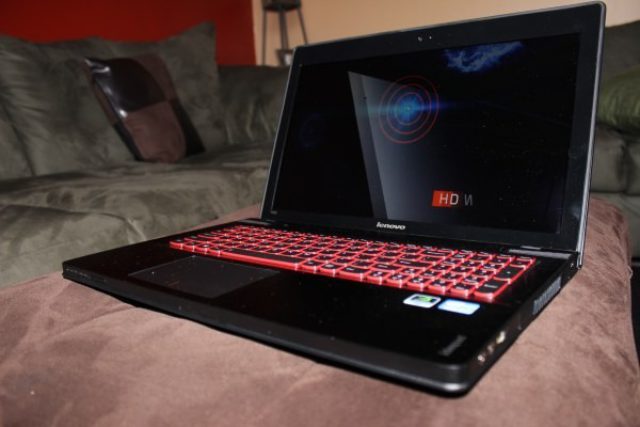 If you're currently in the market shopping around for a high-performance multimedia, and extreme gaming laptop, or you just want something to put on your wish list, then the IdeaPad Y500 is your best bet. When you first come in contact with the Y500, you would be amazed by its extreme performance for a gaming laptop at its price range. It packs a 2.4GHz Core i7-3630QM CPU, armed with two GeForce GT 650Ms, 16GB of RAM, and a 1TB hard drive with a 16GB caching SSD, this 15.6-inch 1920×1080-resolution laptop is a gamers delight. Other cool  highlights of the Y500 includes the full qwerty backlit keyboard with red accents, excellent audio output with the 1.5 watt JBL speakers (the honeycomb vents have red accents too), and two USB 3.0 ports and an always on USB 2.0 port that charges your devices when the laptop is off. To be frank, if all-out performance is what you're looking for, the Lenovo Y500 "PLAYS LIKE AN ATHLETE, WORKS LIKE A PRO."
Design & Ports
I personally like the brush aluminum finish of the Y500, and the simplicity of its design, it's not too flashy, tacky, or boxy for a high-end gaming laptop. The JBL 1.5 watt speakers are impressively loud, and managed by Dolby software, and is a plus on it's on for the Y500. When you spend some time with this beast of a laptop, you will know it's worth every penny you spent on it.It weighs 6.4 lbs, plus a 170 watt huge power brick, which is far from travel-friendly if this is your first gaming laptop. Starting from the right edge, you get two audio jacks (mic, headphone), a USB 2.0 port (always on for charging your devices) , a cooling vent to keep the internals and CPU cool, and a lock slot.
On the left edge, you'll find two USB 3.0 ports, HDMI video output, RJ-45 Ethernet Pot, a VGA connector for older monitors, another for cooling vent, the power connector, and the OneKey rescue system button. As for the front, there's not a whole lot going on there, we have the 6 in one multi-card reader in front, and a couple of indicator lights on the far left corner. One more unique design feature the Y500 has, is modular ultrabay, a laptop feature that hasn't been popular since the mid-2000s. The ultrabay allows you to swap in different components  like the Lenovo's a removable hard drive (up to 750GB, $190), a DVD burner ($70), SLI graphics ($230, included in above price), or an extra cooling fan ($30). Our unit came with a second 650M GPU, the flexibility options that comes with the Y500 is appreciated, as it allows you to transform your gaming laptop into a workstation. Finally for the design features, underneath the Y500 is a monster air vent that keeps your laptop internals running smoothly while you game away.
Conclusion:
Overall, the Y500 performed well in our graphics and gaming tests, handling games like Portal 2 with ease, and other graphically intensive games like Far Cry 3. The things we din't like about the Y500 are the few USB ports, it lacks touch support, and the battery life,which is totally understandable, because no one expects an ultra-high-performance gaming laptop to get the battery life of an ultrabook. Believe it or not, a gaming rig with optional dual GPUs, an extra options for a 3/4 terabyte at the Lenovo Y500's price range is dream come true for gamers. The ability to upgrade and change the parts from an external slot with two simple switches, without damaging the unit is "totally awesome".  If after reading this article and you're still bent on getting your first high-end laptop, then I'd advice you to stick with the Y500.  The Y500 that was sent to us from (IdeaPad Y500 laptop Dusk Black), was a fair $1,249.99, you can hit Lenovo's online store to customized your Y500 to your taste, starting at $799 with their ecupon.
Source: Lenovo