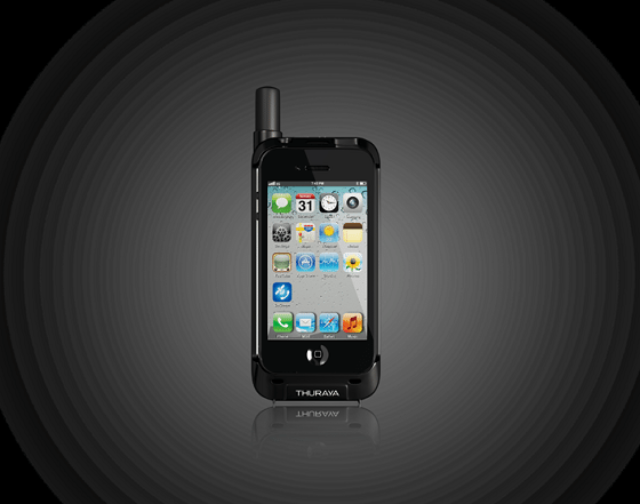 Thuraya just announced it's satellite adaptor for the iPhone, and considered first of its kind.  For folks who do a lot of traveling, you would be pleased to know that the adaptor provides you with access to mobile communication services delivered over Thuraya's network, including your calls and SMS via satellite.
Insert your iPhone into the SatSleeve to stay connected through phone calls and SMS via satellite mode — and put the entire world within reach.
The SatSleeve comes with safety features that lets you make a voice calls to a predefined number during emergency situations, even without the iPhone docked! As for your battery life, you need not worry because the SatSleeve extends the battery life for your iPhone Acting as a backup battery for the iPhone, Thuraya SatSleeve enables you to operate for longer periods of time without worrying about power running out. The SatSleeve is available for 4 and 4s handsets, the company stated that iPhone 5 version is in works. See the video for more information.
Press Release
Thuraya SatSleeve Brings Satellite Connectivity to the iPhone
The world's first satellite adaptor for the iPhone vastly expands the popular smartphone's network coverage and capabilities
DUBAI, UAE, March 20, 2013 – Thuraya Telecommunications Company, a leading Mobile Satellite Services (MSS) operator, announced today the launch of the Thuraya SatSleeve, a versatile and user-friendly device that brings satellite connectivity to the Apple® iPhone®.
A significant breakthrough in the mobile satellite industry, Thuraya SatSleeve is the world's first product to offer easy and affordable access to mobile satellite communications – delivered over Thuraya's extensive satellite network. Only slightly larger than the iPhone itself, the compact adaptor provides users with the ability to turn their iPhone into a satellite phone that allows them to have reliable connectivity beyond the coverage of traditional terrestrial networks.
Samer Halawi, Chief Executive Officer of Thuraya, said: The launch of Thuraya SatSleeve represents a major milestone and a game-changing innovation in the satellite industry. This is the first consumer friendly mobile satellite phone ever launched, which dramatically increases the reach to satellite telephony for enterprise, government, and everyday consumers alike. It provides iPhone® users with a versatile and highly affordable means of conducting phone calls and sending SMS via satellite from the world's most remote locations."
While iPhones are typically supported by terrestrial networks, Thuraya SatSleeve enables users to enjoy ubiquitous coverage even in the most remote environments. The Thuraya SatSleeve also serves as an important mobile communications tool for corporate users, especially enterprises operating in remote locations, explorers, mountaineers and other outdoor enthusiasts – ideal for prolonged expeditions that take these users deep into uncharted areas that are not served by terrestrial mobile networks.
Combining the innovation of Thuraya's mobile satellite products with the intuitive interface of the iPhone, Thuraya SatSleeve is a groundbreaking development that enables users to stay connected by voice and text over Thuraya's high-powered satellite network.
About Thuraya Telecommunications Company
Thuraya Telecommunications Company is an industry leading MSS operator and a global telecommunication provider offering innovative communications solutions to a variety of sectors including energy, broadcast media, maritime, military and humanitarian NGO.
Thuraya's superior network enables clear communications and uninterrupted coverage across two thirds of the globe by satellite and across the whole planet through its unique GSM roaming capabilities. The company's diverse range of technologically superior and highly reliable mobile satellite handsets and broadband devices provide ease of use, value, quality and efficiency. Thuraya remains committed to serving humanity through delivering the essential tools for optimal connectivity, never leaving anyone out of reach. Visit www.thuraya.com.
Source: Thuraya