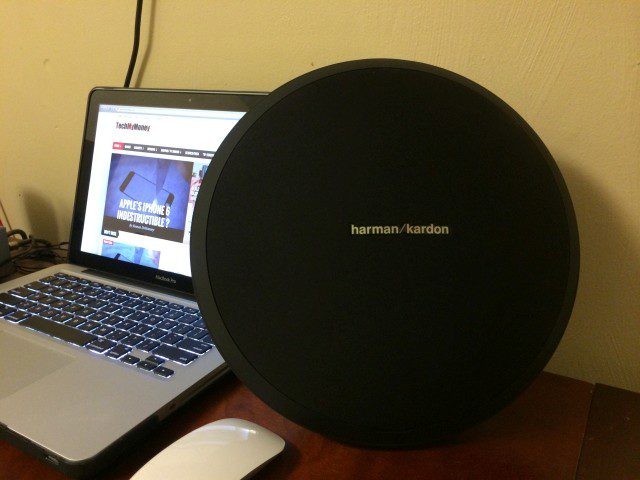 The Harmon Kardon Onyx Studio Bluetooth Speaker Review 
Build/ Quality
As soon as you remove the Onyx Studio out of the box you get that premium high quality feel. The speaker feels great and sports a hard rubberized backing that is unfortunately quite finger print prone. Make sure to wash your hands or you'll have little greasy cheetah like fingers prints all over the speaker. The Onyx weighs in around 4 pounds and has a nice handle on the top rear to carry on the go. The legs that hold the speaker in place are non-adjustable, although you shouldn't need to adjust the angle of the speaker for any reason.
With the high quality premium feel, yet finger prone design of the Onyx I would rate it a 7/10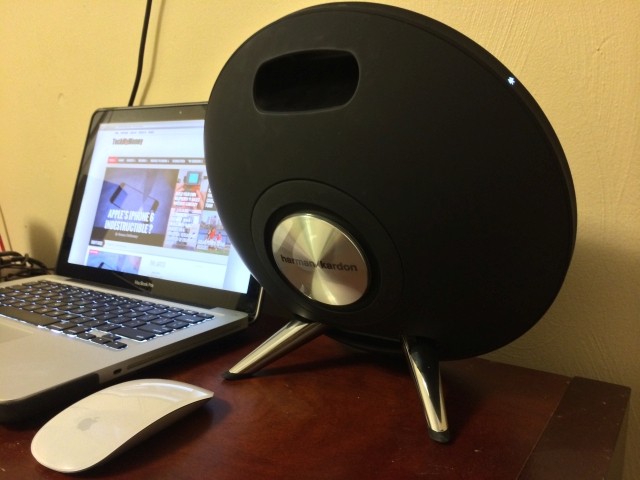 Ease of Use/Connectivity
Pairing up the Onyx Studio is a breeze just hold the Bluetooth button until you hear a beep and pair it with your phone, computer etc. I tested the Onyx with an iPhone 5s and a 2012 MacBook Pro, I had no issues what so ever pairing. There is not much going on as far as buttons just a power button, Bluetooth sync button, volume up and down buttons. The speaker lacks and aux input, which is not a deal breaker by any means. There is also a micro usb input that is said to be used for future firm ware updates. The rechargeable lithium-ion battery will also last its entire 5 hour advertised output. It is also charged by a ac adapter which is normal due to the size and sound output it produces. Something also worth mentioning is the speaker will be noticeably louder when directly plugged in. The Onyx Studio will turn off as soon as you unplug it, which is quite annoying if you want to take it on the go to another room or outside.
Slight annoyances and lack of aux port drive me to give this section an 8/10
Sound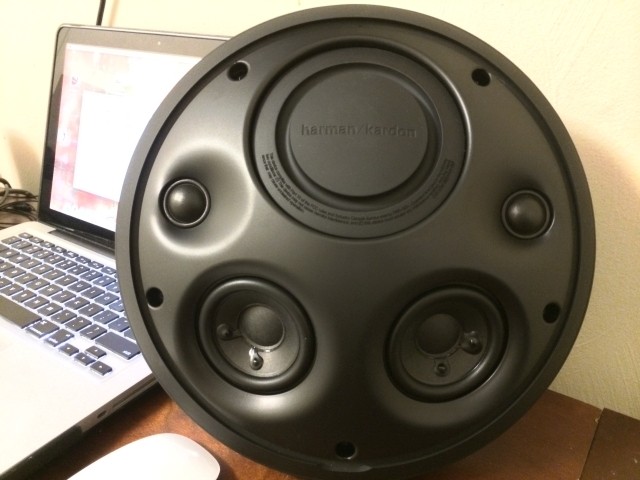 Let me start off by saying the clarity of this unit is astonishing at low to mid volume. The bass has a surprisingly strong punch; I could feel the bass laying in my bed with the speaker on a desk about 5 feet away. Being a self-proclaimed bass head this impressed me and got me quite excited to crack this baby all the way up. The Onyx houses Two 3' woofers along with two ¾ inch tweeters, producing 60 watts of powerfully rich and loud sound. At about 80-100% volume the Onyx's mids and highs will over power the bass and you won't get that full acoustic sound anymore. Even with the speaker maxed out in volume you will not hear a smidge of distortion. There's no trouble filling a large room full of sound with the Onyx, it even does well outside. It can easily be mistaken for a multiple speaker set.
Boasting amazing clarity at low/mid-levels yet struggling bass at higher levels I'd rate sound a 9/10
Price/Value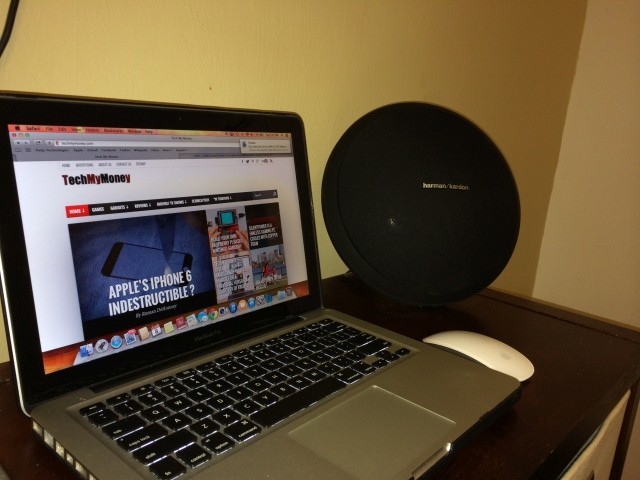 This Onyx Studio is costs $499.99 on their website and the model seems to have slight upgrades than the model I have with a leather skin and air-play enabled. Aside from that the specs are identical and this can be purchased at best buy for $199.99, the same as the beats pill which seems inferior compared to the Onyx studio yet much more portable. The Bose Soundlink III is very comparable in sound and costs $299.99. The Harmon Kardon is clearly the better value here.
If you're looking for a high end Bluetooth speaker the Onyx should be a top consideration. Value 8/10
Final Verdict
Harmon Kardon is known for their high quality products and did not fail to deliver with the Onyx Studio. Although there are a few nuances with the speakers all in all it's an amazing device and I would recommend this to anyone in the market for a blue tooth speaker. Final Score 8/10