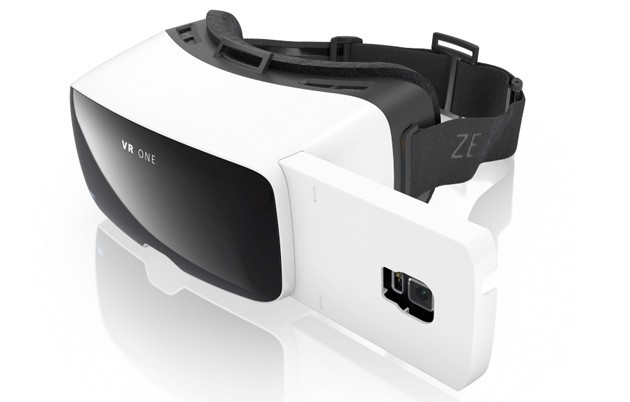 Almost every company is trying out or testing their own Virtual Reality contraption, and Carl Zeiss is the latest company to join the VR race. Unlike Samsung's Gear VR tied to only their smartphones, Carl Zeiss' VR One is a better looking $99/ € 99 smartphone VR headset that's compatible with the iPhone 6 and Samsung Galaxy S5. Carl Zeiss' VR One uses a drawer system that allows you to insert and slide in a 4.7 and 5.2-inches smartphone. Carl Zeiss plans to make the VR One universal by giving individuals options to vote on which phone they should make the next tray for. The iPhone 6 or Galaxy S5 drawers will cost you an extra $9.90, you can pre-orders one now, first units will ship before Christmas 2014. The Carl Zeiss VR One will come with " two ZEISS Multimedia apps are included with your purchase which enable you to watch movies (2D and 3D), view photos and Google street view, and interact with Augmented Reality"
Optics:
Leading-edge optical design and ZEISS precision lenses for ultimate immersive visual experience
Supported Devices:
Smartphones with display size between 4.7 and 5.2 inches
See-Through front shield:
Enabling smartphone cameras for augmented reality apps
Eyeglasses:
Wearing of eyeglasses possible
Audio:
Openings to access the smartphone audio and charging connectors
Smartphone tray:
Innovative slide for exact smartphone positioning.
Please visit for more information about supported smart phones.
Air ventilation:
Ventilation openings to ease airflow and avoid fogging of lenses
Tracking Sensors:
Internal tracking by smartphone sensors
3D Support:
Stereo side-by-side format for 3D pictures & videos
SDK:
Field of View:
approximately 100° field of view
Interpupillary Distance Coverage:
Scope of delivery:
Slide for Samsung Galaxy S5 or iPhone 6 (4.7")
AR Cube
User manual and safety notes
2 Apps (VR ONE Media, VR ONE AR) downloadable on iTunes store and Google Play store
SOURCE: One VR (1), (2)