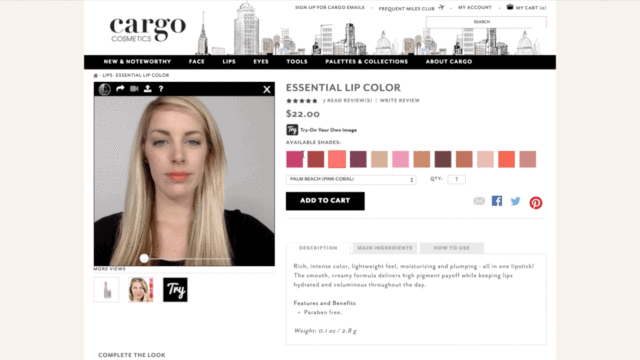 FaceCake is known for using virtual reality for women to try on some various types of jewelry without leaving their homes. Today, we find out that the same company has paired with one of its brand partners, Cargo to create a similar augmented reality for applying makeup called Cake AR.
To apply the makeup all you need to do is to go to their website, and if you have a webcam, then you can try on makeup right in your browser. There is no need for any special apps, add-ons or device requirements. You won't even need to upload a picture to try it on unless your webcam isn't working.
So far Cargo has activated Cake AR as a feature for its lipstick and eyeshadow line. A feature like Cake AR can definitely be profitable for FaceCake if they decide to licence this tech to other makeup giants. Until then, you can freely try on makeup before buying it (or  really wearing it) to see how it looks on you, ahead of time.