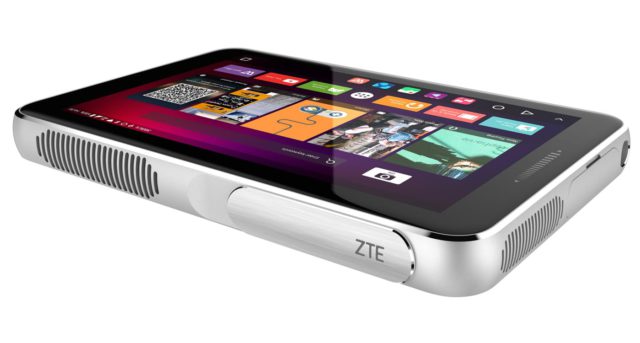 ZTE Android projectors is actually a thing, if you never heard of them then I'd like to refresh your memory to 2014 when they partnered with Sprint to make the LivePro (a touchscreen projector/Android hotspot). Seems like the predecessor did so well the company had to unveil the new Spro Plus. The ZTE Spro Plus is a 500-lumen projector with an Android-based operating system. The device some with an 8.4 inch AMOLED screen, a Snapdragon 801 processor, optional LTE data and 128GB of expandable storage. The ZTE Spro Plus can cast an amazing 80-inch image to your wall.
Its leading visual capabilities include its vertical and horizontal keystone correction, which is its ability to project onto any place in any direction without distorting the image. Its autofocus keeps the image sharp and clear. This is all achieved by its stylish, circular design. It uniquely uses laser instead of LED technology to project at 500lm, the ideal luminescence for either broad daylight or dark rooms, ensuring the best visual experience for users. This generation of Spro comes with an improved projection ratio. Placing the Spro Plus 2.4 meters away from any surface will project an image up to 80 inches across.
ZTE (BusinessWire)
ZTE also confirmed in a press release that the Spro Plus comes with "great audio", it features a JBL Audio system which includes high-quality audio outputs via two 4w speakers and a crystal clear voice pickup via high performance HARMAN sub-miniature microphones. The sub-miniature microphones will be able to detect voices more than five meters from Spro Plus for those who'll want to use it in group meetings. If you're interested in getting you hands on one, you'll have to wait until summer to get the ZTE Spro Plus, there's no word on the price yet from ZTE.