Xiaomi (the Chinese smartphone maker) had a memorable day this past Wednesday. The company sold over 2 million smartphones and set a world record in the process for selling that many devices in one day!
Every year Xiaomi organizes a Mi Fan Festival around its birthday and gives consumers various promotions (it's also widely celebrated across all Xiaomi markets), but this year was very special for the Chinese company, because it was celebrating its fifth anniversary and its company's increase with operating in more markets. Currently Xiaomi devices can be found in a total of eight markets globally, that includes India, China, and Singapore.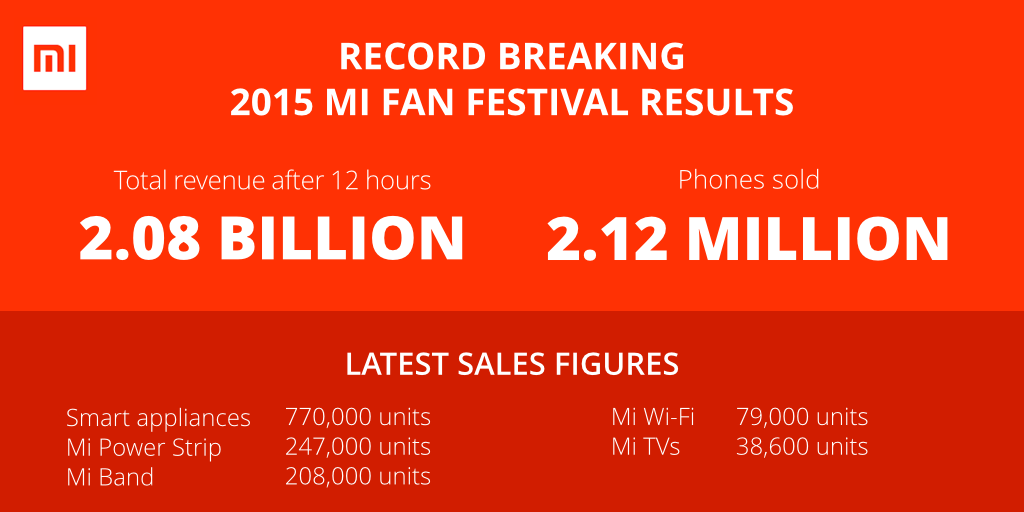 But something else also happened that Xiaomi didn't plan or account for at this year's Mi Fan Festival, record-breaking sales. During the festival, Xiaomi generated nearly 2.08 billion yuan ($335 million) in revenue alone and sold a whopping 2.112 million smartphones, 770,000 smart appliances, 38,600 Mi TVs and more.
These fantastic numbers alone were greatly appreciated by the company, but add in a Guinness World Record for most mobile phones sold on a single online platform in 24 hours, and that ladies and gents puts some very rich icing on a luxurious cake. Xiaomi noted on Friday that a total of 14.6 million consumers participated in the April 8th festival sale. Great job Xiaomi!