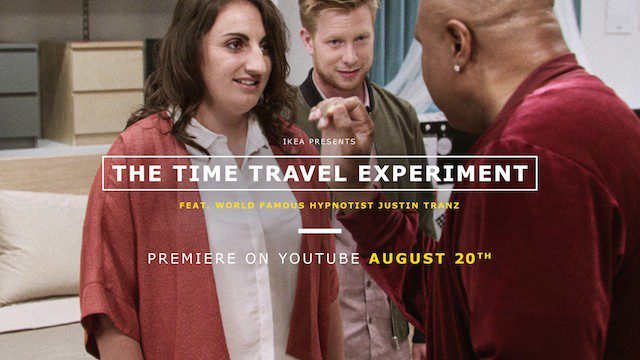 When it comes to ready-to-assemble furniture, appliances and home accessories the Swedish company IKEA is your best bet.
The largest furniture retailer in the world had a better way to give their customers a better experience for home improvement solutions in the future. As  this is no ordinary illusion. IKEA had to summon the expertise world-renowned hypnotist Justin Tranz and a few actors, to let young willing couples experience their future in a fascinating time travel experiment.
In case you didn't know who Justin Tranz is before now, he has done well over 6,000 stage shows and is the only hypnotist in history to ever legitimately perform on Broadway.
The mind-blowing experiment was conducted in one of their store settings, as Justin Tranz is seen putting the participants in a deep trance, and guiding them through potential life-changing events in advance.
"The everyday is exciting! It's on those seemingly ordinary days life happens and changes. And when it does, so does our home", says Johan Wickmark, Global Catalogue Manager.
IKEA put the spotlight on those big moments happening in our everyday lives that has an effect on how we make changes in our homes, be it positive or negative. You can totally relate to the IKEA media campaign if you've ever had to upgrade your furniture to sooth your growing family. "In the new IKEA catalogue you can find solutions for every episode in life", says Johan Wickmark, Global Catalogue Manager. The video premiered on Wednesday August 20th on Youtube, enjoy the video below, and head to your nearest IKEA to find your future bedroom and bathroom.