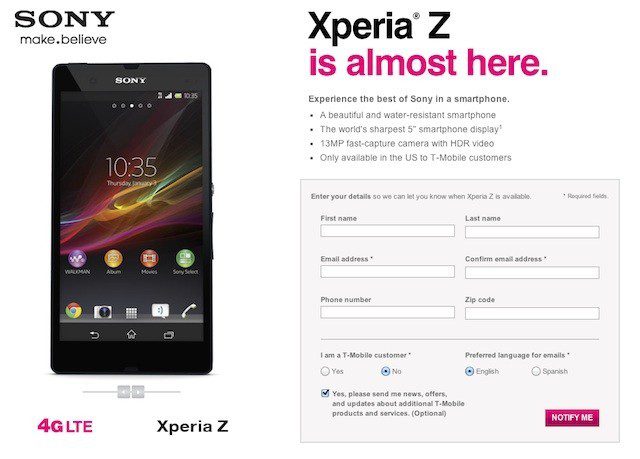 If you're  on T-Mobile's network, and interested in getting you hands on the Sony Xperia Z in US, then you don't have to wait for long. T-Mobile announced this morning in a press release, that they will be exclusively carrying the Sony Xperia Z in the US. There is no word on pricing or pre-order site yet, but you can sign up for email notification on the Xperia Z T-Mobile page. The device will be available in both purple and black finish, the water-resistant phone will be compatible with the carrier's 4G LTE service. The Sony Xperia Z will come with a 5-inch 1080p HD Reality Display, 1.5GHz quad-core processor, 2GB of RAM, a 13MP rear-facing camera, 16GB of internal storage and will run on Android 4.1 Jelly Bean. No you know what to do if you want Sony's flagship device, just switch to T-Mobile. Head over to the T-Mobile Sony Xperia Z product page to sign up for email alerts.
[wpspoiler name="Press Release" ]
Xperia® Z from Sony to Make a Splash at T-Mobile this Summer
T-Mobile is the only U.S. mobile provider of Sony's flagship water-resistant smartphone
BELLEVUE, WA – June 18, 2013 – Continuing to offer customers a wide selection of hot 4G LTE smartphones, T-Mobile US, Inc. (NYSE: TMUS) today announced it will be the exclusive U.S. wireless company to carry the Xperia® Z from Sony.
The Xperia Z packs the best Sony has to offer into a premium Android-powered smartphone. T-Mobile will offer the device on its Simple Choice Plan with no annual service contract plus unlimited talk, text and Web on a screaming fast, nationwide 4G network with 4G LTE rolling out across the country.
"T-Mobile customers traveling this summer will love the Xperia Z with its big, beautiful HD screen, water-resistant design and advanced camera features," said Jason Young, vice president of product marketing, T-Mobile. "This is an outstanding combination: a premium 4G LTE smartphone with Sony's best features coupled with T-Mobile's unlimited data and speedy nationwide network."
Simple Choice Plan
With T-Mobile's Simple Choice Plan, Xperia Z customers design their plan based on the number of lines and amount of high-speed data they want. Unlimited talk, text and Web with up to 500MB of high-speed data is $50 per month (plus taxes and fees) for the first line. Customers can add another 2GB of high-speed data at up to 4G speeds for $10 per month per line or get unlimited 4G data and up to 500MB of tethering for an additional $20 per month per line. A second phone line can be added for $30 per month and each additional line is just $10 per month. There are no caps, no overages and no restrictive annual service contracts.
T-Mobile's 4G LTE Network
The Xperia Z will seamlessly connect to T-Mobile's high-speed nationwide 4G HSPA+ network and advanced 4G LTE network wherever it is available, which is expected to reach 100 million people by midyear and 200 million nationwide by the end of the year1. T-Mobile's 4G LTE rollout complements its existing nationwide 4G network covering 228 million people, which third-party tests show already rivals or beats existing competitive LTE networks in many markets. T-Mobile's 4G LTE network is currently available in seven metropolitan areas: Baltimore; Houston; Kansas City; Las Vegas; Phoenix; San Jose, Calif.; and Washington, D.C.
"With Xperia Z, we are thrilled to bring a breakthrough smartphone to T-Mobile, the breakout carrier in the U.S.," said Timothy Hernquist, North America Vice President of Marketing, Sony Mobile Communications. "Xperia Z offers customers a beautifully designed, water-resistant premium Android smartphone ready to handle whatever life throws at it."
Sony went with a stylish and durable physical design with unique technology, content and connectivity all bundled into the Xperia Z. A 5-inch 1080p HD Reality Display with Mobile BRAVIA® Engine 2 provides super brightness and clarity. The highly-durable design features tempered glass and anti-shatter film on the front and back and the highest levels of dust- and water-resistance2 (IP55 and IP57) in a premium smartphone. A 13-megapixel camera with Exmor RSTM for Mobile, the world's first image sensor with HDR (High Dynamic Range) video for smartphones, delivers stunning photos and videos in any condition. And its STAMINA mode is designed to greatly improve battery standby time by automatically shutting down battery-draining apps when the screen is off.
Availability
The Xperia Z is expected to be available nationwide at T-Mobile retail stores, select national retailers and dealers and online via www.T-Mobile.com in the coming weeks. The smartphone will be available in a black finish and a limited-time only purple finish (while supplies last). For more information, visit http://t-mobile.com/Sony-XperiaZ.
[/wpspoiler]
Source: T-Mo's Xperia Z product page